Sansure Presented Wonder to the World at Hospitalar 2023
---
Sansure Biotech
May 26, 2023
Hospitalar, one of the largest and most well-known medical exhibitions in Latin America, is attracting much attention from global medical experts. It showcases highly advanced hospital equipment and health services every year at the Sao Paolo Expo Exhibition & Convention Center, Sao Paolo, Brazil. Since 1993, Hospitalar has been focusing on innovation and advancement in the health sector, attracting visitors around the world.
The Hospitalar 2023 occurred between 23rd May 2023 and 26th May 2023, exclusively for professional visitors. And we Sansure Biotech Inc. was at the exhibition, receiving visitors interested in laboratory medicine and technology. Among the items at the booth, our iPonatic, the combination of extraction and amplification, is undoubtedly the focus of public attention.
Sansure's Hit Products in Hospitalar
We Sansure always dedicate ourselves to developing more accurate and efficient solutions in identifying pathogens, diagnosing diseases and guarding health.
This year, our booth showcases our latest products from a vast array of over 500. These products are designed to offer performance beyond comprehension, which include:
Semi-Automatic Solutions, represented by:
1. Natch 48 Nucleic Acid Extraction System+ MA-6000 Real-Time Quantitative Thermal Cycler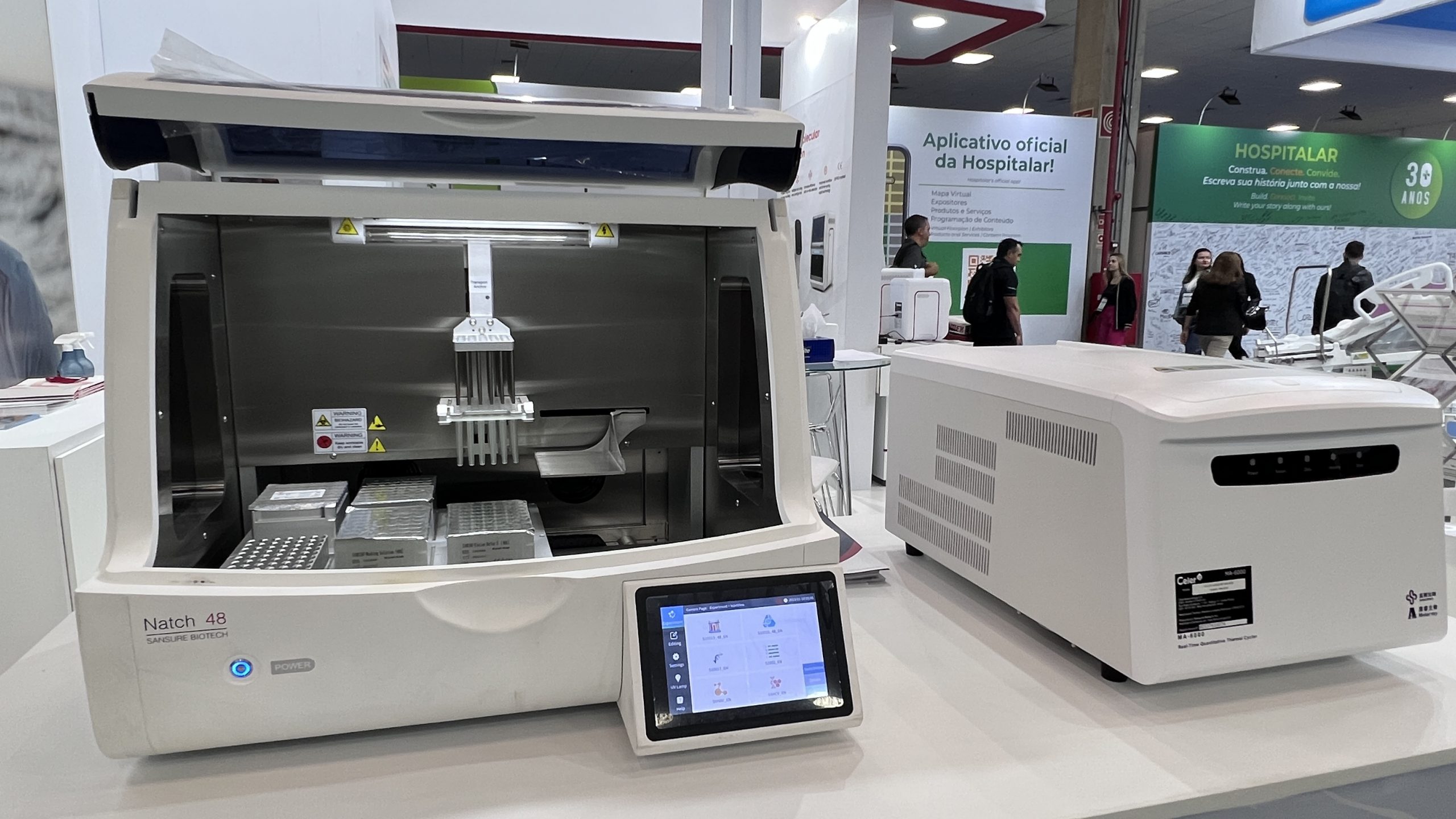 Natch 48 uses advanced magnetic beads technology, delivering 1 – 96 tests per batch in 10 – 60 minutes. It's a highly advanced nucleic acid extraction system with a POCT capability for serum, plasma, whole blood, secretion, exfoliated cells, tissues, throat swabs, anal swabs, feces, and so much more. It is a future nucleic acid extraction system that simplifies the work, allowing users to efficiently and quickly get test results.
When Natch 48 meets MA-6000, the testing efficiency will be improved even further. MA-6000 utilizes a temperature control module consisting of six independent units, accompanied by an infrared environmental scanning and monitoring system. This ensures precise temperature control and security for the thermal block.
2. Natch 16S Nucleic Acid Extraction System+MA-1640Q Real-Time Quantitative Thermal Cycler
Simplifying complexity in nucleic acid extraction and amplification system, Natch 16S and MA-1640Q are highly advanced and use magnetic bead technology to provide a sample throughput of 1 – 16 tests, with the extraction time of 10 – 60 minutes. It has a high-performance mixing mode of a tip comb moving up and down, with 10 different mixing modes.
MA-1640Q is a superior real-time quantitative thermal cycler that goes beyond your imagination. It is portable, fast, compatible and powerful, featuring usages for relative and absolute quantitative, melting curves, and positive and negative analysis.
mPOCT Series, represented by:
Portable Molecular Workstation iPonatic I, II, III
We Sansure put our efforts into innovating diagnostic technologies. This year's Hospitalar medical exhibition presents one of the most advanced POCT systems, as shown below.
iPonatic III – Portable Molecular Workstation
Our system offers many benefits, and the iPonatic III is a true example. This portable molecular workstation is the latest version of  our iPonatic series, aiming to open a whole new digital and intelligent era to the world of molecular diagnostics.
The main features of this system include the following:
Complete automation of the testing results, delivering results in approximately 15 – 45 minutes.
Improves efficiency by reducing hands-on time, also reducing contamination risks.
A rich and extensive testing menu to meet various demands.
Extremely portable
International standards
State-of-the-art San UI Interactive system and HD screen. You can see the results directly at the point of contact.
In short, the iPonatic III is a workstation that allows users to take tests directly from the field, reducing hands-on time and improving accuracy.
Sansure's Aim at the Exhibition
Using the POCT, top-notch nucleic acid extraction and amplification system technologies, we seek to gain more cooperation and share expertise in Hospitalar. We devote ourselves to improve the working efficiency of global medical laboratories with our innovative technologies.
Interested parties are highly welcome to get a first-hand experience of what these equipment can do. It's all about making the world a better place by creating and sharing technologies that make testing processes easier and faster.
Conclusion
Our mission is to provide accessible and innovative diagnostic technologies, products, and services for all. We have over 500 world-leading products for advanced use cases globally. Focusing on innovation, we offer reliable products and satisfying services to adhere to the needs of different scenarios. And the Hospitalar 2023 medical exhibition is one of the perfect places to present our capabilities.
Get in touch with us today to learn more about our story and products!