Sansure Biotech Starts Localized Manufacturing in Indonesia, Promoting Accurate Diagnosis and Treatment
---
Sansure Biotech
Nov 16, 2022
On the afternoon of November 13, witnessed by Budi Gunadi Sadikin, Indonesia's Minister of Health, and Luhut Binsar Pandjaitan, Indonesia's Coordinating Minister of Maritime Affairs and Investment, Sansure Biotech signed a memorandum on localized manufacturing with its Indonesian partner UBC, introducing Sansure's molecular diagnostic techniques to Indonesia and starting localized manufacturing. This is a milestone of Sansure's international development and a turning point from going abroad to localization.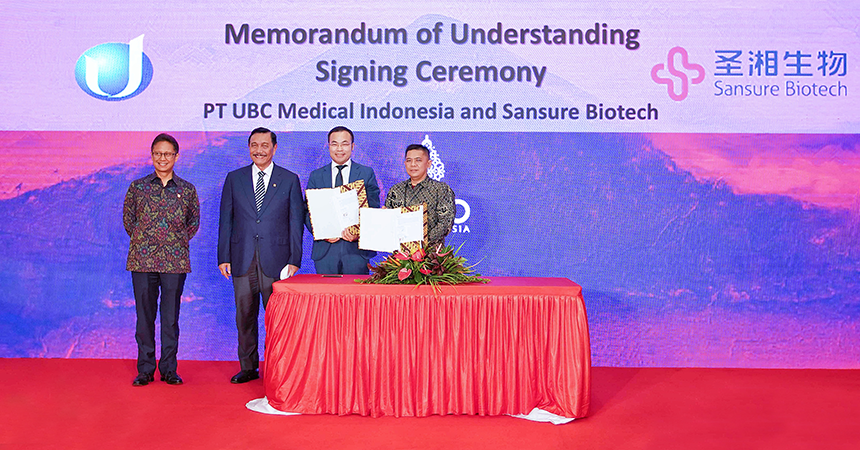 China and Indonesia have set a good example of mutually beneficial cooperation among regional countries and established an active and resilient relationship. These years, China has achieved great success in the prevention and control of infectious diseases, thanks to the popularization of molecular diagnostic techniques, which offer quality, efficient and accurate diagnostic services. Since the outbreak of Covid-19, China and Indonesia have made important achievements in cooperation to fight the pandemic. In July this year, President Joko visited China and showed his support in building a community of shared future between China and Indonesia. As a leading molecular diagnostic company in China, Sansure Biotech has determined to be a responsible company in promoting human health.
In 2021, Sansure Biotech established a subsidiary in Jakarta, Indonesia with a local service team, providing an effective and affordable Point-of-Care Testing (POCT) system. Accurate and accessible, this system is equipped with Sansure's unique patent, which simplifies the process of molecular testing and enables experiments to be completed without professional training, helping promote the prevention and treatment of infectious diseases from specialized hospitals to community institutions. In addition, the POCT diagnostic system is highly extensible and can accurately detect other infectious diseases and endemic disease such as dengue fever. This can better meet the disease detection needs of Indonesia and other developing countries without intensive medical institutions, and effectively improve local infectious disease prevention, control and treatment.
In recent years, Sansure has grasped the opportunities of the global market and carried out its internationalization strategy. Its products have been sold in more than 160 countries and regions around the world. The company continues its localization with subsidiaries in Indonesia, France, UK, Philippines and USA, and offices in Thailand, Brazil and other countries. In the future, Sansure will give full play to the advantage of its systemic approach and continue to provide Chinese solutions for the prevention and control of major infectious diseases worldwide.