With a capital contribution of 50 million, Sansure and KHB set up a joint venture to win together!
---
Sansure Biotech
Nov 12, 2021
On November 8, Sansure and KHB signed the Letter of Intent for Investment Framework, to establish cooperation in chemiluminescence immunization subdivision to draw on each other's strengths and achieve win-win results. According to the agreement, Sansure and KHB jointly invest 50 million yuan to establish a joint venture company "Sansure Immunotech" (proposed), with each side holding 50% of the equity.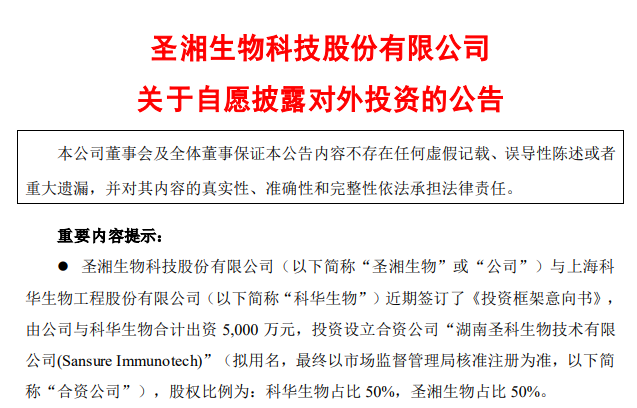 Chemiluminescence immunoassay, as a new technique in immunodiagnosis, combines the high sensitivity of chemiluminescence and the high specificity of immunoassay, and is widely used in clinical testing, drug analysis, environmental monitoring and other fields. The two sides set up a joint venture company through cooperation to tap into their mutually complementary strengths. In the co-creation stage of the joint venture, its reagent development can be based on the instrument technology platform of KHB. KHB has 42 certified products and 37 under development, which can be licensed to the joint venture company. The joint venture company will exclusively license the approved products at fair value to Sansure for sales in overseas markets.
In terms of product lines, by setting up a joint venture, the two sides can enrich their chemiluminescence product lines and enhance the core competitiveness of the products to provide continuous momentum for market expansion relying on KHB's instrument platform advantages in chemiluminescence immunology and the R&D capabilities of both sides. In terms of product registration, the joint venture company can gradually complete product registration in the EU, Latin America and other regions to expand the international market with the help of Sansure's international registration team.
Sansure signed a strategic cooperation agreement with KHB early in July this year to establish a long-term and stable in-depth cooperative relationship in an all-round way and jointly promote the "China solution" in the field of in vitro diagnosis. The cooperation this time between the two sides will also build a more perfect new ecology with universal and full scenario of in vitro diagnostic applications, and further accelerate the export of "China solution" to the global medical and health field.