Sansure Biotech's Novel Coronavirus (SARS-CoV-2) and Influenza A/B Virus Nucleic Acid Diagnostic Kit Obtained EU CE Certification
---
Sansure Biotech
Feb 19, 2021
On February 18th, the Novel Coronavirus (SARS-CoV-2) and Influenza A/B Virus Nucleic Acid Diagnostic Kit (Immunochromatography) of Sansure Biotech obtained the EU CE certification, further enriching the respiratory product line of the company.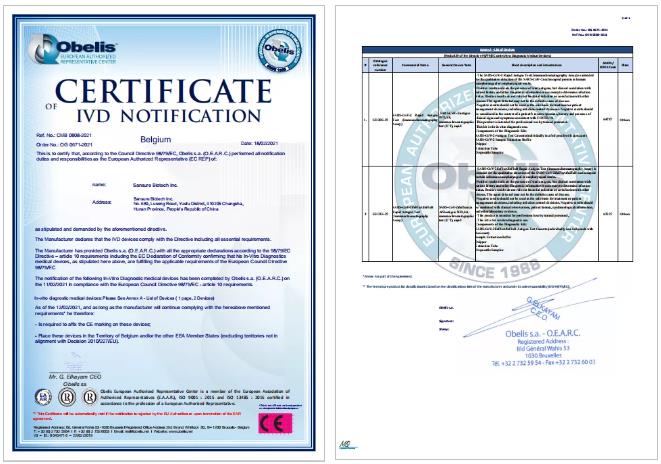 At present, the cumulative number of confirmed cases of COVID-19 in the world has exceeded 100 million, which has brought unprecedented health, economic and social challenges to all parts of the world.
The National Work Plan for Influenza Prevention and Control (2020 Edition) pointed out that measures such as pre-inspection and triage, multiplex diagnostic of multiple pathogens of respiratory infectious diseases, simultaneous detection of multiple pathogens such as COVID-19 and influenza virus should be taken to do a better job on differential diagnosis. In the Diagnostic and Treated Program on COVID-19 Pneumonia (Trial Seventh Edition), it is also required to distinguish the mild manifestations of the COVID-19 infection from the upper respiratory tract infections caused by other viruses, mainly including influenza virus, adenovirus, respiratory syncytial virus, etc. It is necessary to detect common respiratory pathogens through rapid antigen detection and multiplex PCR nucleic acid detection.
Sansure Biotech's Novel Coronavirus (SARS-CoV-2) and Influenza A/B Virus Nucleic Acid Diagnostic Kit uses sandwich ELISA to qualitatively detect and identify the COVID-19 virus antigen, influenza A virus antigen and influenza B virus antigen in human nasopharyngeal swab or oropharyngeal swab samples. Within 20 minutes, it can distinguish these viruses with very similar symptoms. The operation is very simple, with no need of equipment, and it can provide visualized result. The result can be used for the auxiliary diagnosis of respiratory pathogen infection and suspected COVID-19 pneumonia patients, which is suitable for early diversion and management of suspected populations.
Respiratory diseases are the high incidence of disease in human. In order to prevent the co-epidemic of respiratory diseases such as COVID-19 and influenza, Sansure Biotech has launched a series of products in respiratory detection. The CE-certified Novel Coronavirus (SARS-CoV-2) and Influenza A/B Virus Nucleic Acid Diagnostic Kit is a new product of the company after more than 30 products including Novel Coronavirus (2019-nCoV) Nucleic Acid Diagnostic Kit, Novel Coronavirus Antigen Test, SARS-CoV-2/InFluA/InFluB Rapid Antigen Test, Six Respiratory Pathogens Nucleic Acid Diagnostic Kit, Respiratory Pathogens Multiplex Nucleic Acid Diagnostic Kit, obtained CE certification.