Six New Products of Sansure-Controlled Company were Approved Marking a Breakthrough in Chemiluminescence Layout
---
Sansure Biotech
Aug 29, 2023
Sansure Biotech Inc. has made a breakthrough in the field of chemiluminescence immunoassay. Recently, six products independently developed by Accucise Diagnostics Inc., a company controlled by Sansure, obtained medical device registration certificates.
These medical device registration certificates were issued by Jiangsu Medical Products Administration (JSMPA). The approved products include the reagents and quality controls of Procalcitonin Detection Kit (Electrochemiluminescence Method) and Interleukin 6 Detection Kit (Electrochemiluminescence Method).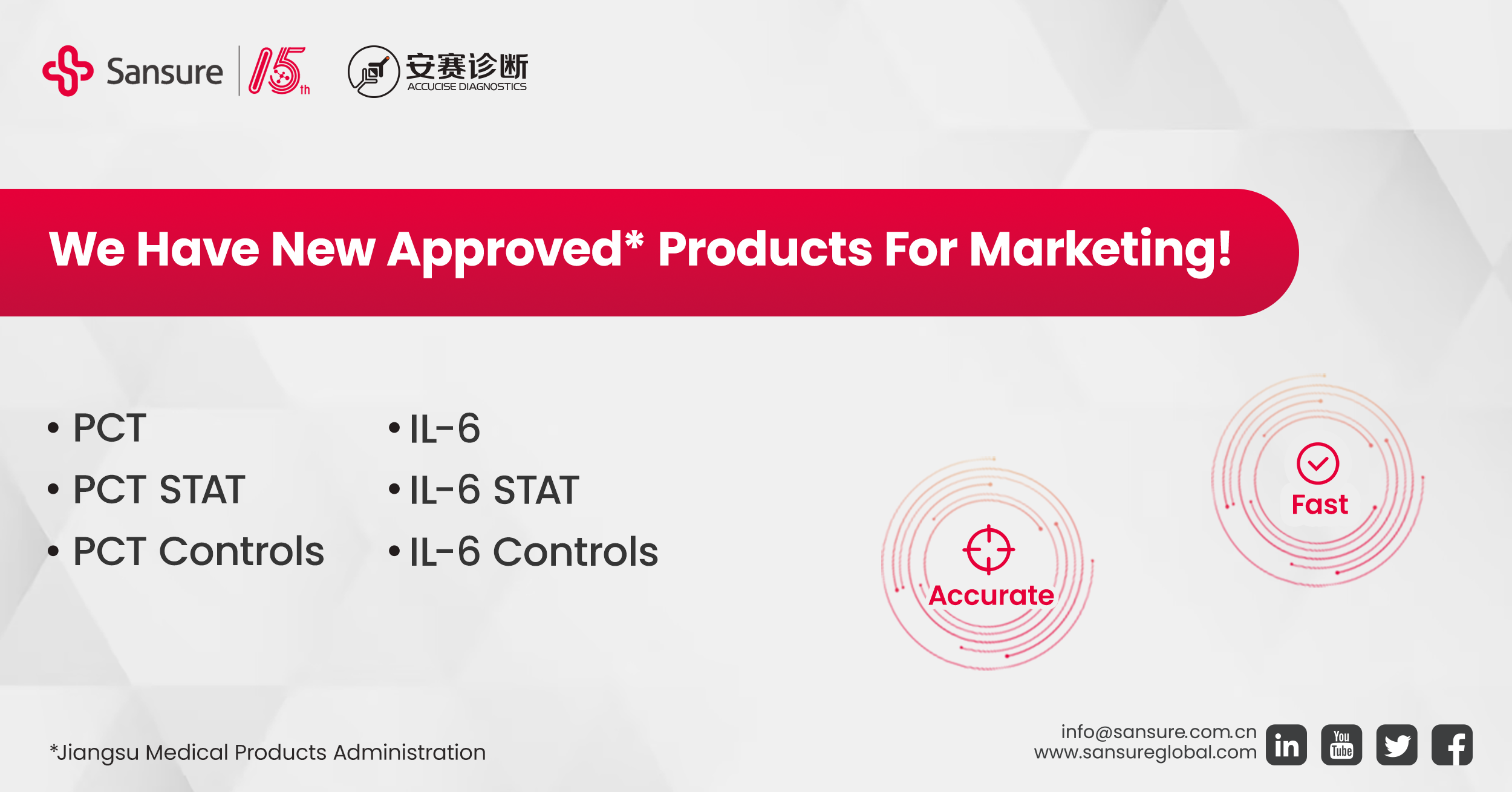 This breakthrough has effectively improved Sansure's strategic layout on the track of immune diagnosis. At present, the company has constructed a competitive product matrix on multiple tracks including immune diagnosis and gene sequencing while continuously strengthening its major advantage in molecular diagnosis. The company aims to realize a coordinated development and build a complete IVD ecosystem by further expanding the strategic product layout.
Data show that procalcitonin test, also known as PCT test, is often used for the detection of infection and is of significant reference value in differentiating between a bacterial and viral infection, in detecting fever for unknown reasons and sepsis, as well as in differentiating infectious and non-infectious diseases.
A higher level of interleukin-6 (IL-6) may occur in many acute and chronic diseases associated with inflammation, such as septicemia, autoimmune disease and cancers.
Accucise Diagnostics's new electrochemiluminescence products are expected to take the market opportunity arising in the industry's upgrading and updating owing to its obvious advantages in testing time, precision, sensitivity and other aspects.
Domestically leading in the field of molecular diagnosis, Sansure has in recent years been committed to the core strategy of "building a complete IVD ecosystem". In addition to its unceasing efforts in R&D and in business track development, the company has started to utilize quality resources in IVD industry through shareholding, acquisition and other means.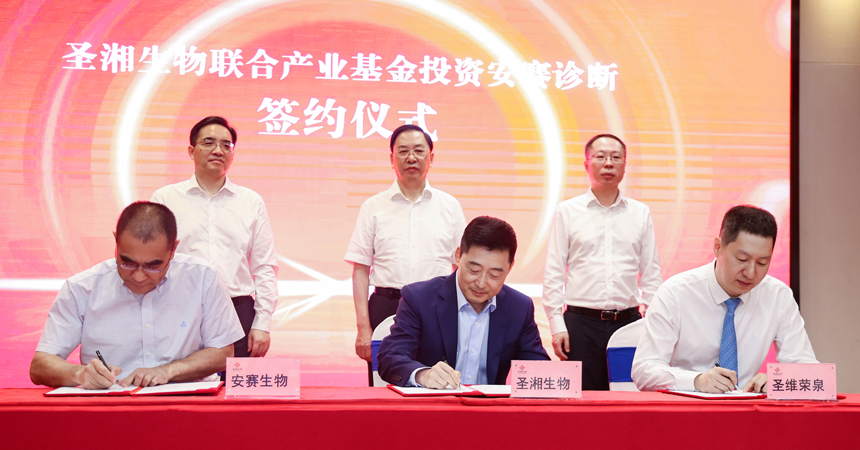 In the first half of 2023, Hunan Xiangjiang Sansure Biotech Industrial Fund ("Industrial Fund" for short) was set up, the initial offering reaching 4 hundred million yuan. On June 16, the Industrial Fund signed for the investment of Accucise Diagnostics. Through the investment, Sansure managed to jump into the track of immune diagnosis, remarkably advancing the company's layout of IVD products. Meanwhile, Accucise Diagnostics will gain multi-level cooperation and support so as to accelerate its pace towards breakthroughs in chemiluminescence market.
Only two months after the controlling, six products from Accucise Diagnostics have been granted medical device registration certificates. This is partly owing to Accucise's profound technological accumulation and partly owing to the strong support from Sansure in talent team, research and development as well as productization.
For Accucise Diagnostics, these approved reagents perform extraordinarily well in inflammatory factor detection and serological detection of infection: five minutes' incubation will suffice for precise diagnosis. In future, the company will continue to develop highly competitive products in myocardial markers detection, Alzheimer's disease detection, and so on.
Accucise Diagnostics is one of China's leading enterprises in immune diagnosis. Relying on the innovative Enhanced Electrochemiluminescence (EECL) platform technology, its products have obvious competitive advantages in signal strength, noise control, sensitivity and so on and have full potentials in competing in high-end immunoassay market and replacing imported products.
For Sansure, cooperation and mutual complementarity between Sansure and Accucise can help improve the parent company's industrial layout, accelerate the enterprise's construction of diversified platforms in IVD industry, maintain its comprehensive competitiveness and create a business model of 1+1 >2.