The Monkeypox virus Nucleic Acid Diagnostic Kit of Sansure Biotech Has Obtained the CE Certification
---
Sansure Biotech
May 26, 2022
On May 25, the Monkeypox virus Nucleic Acid Diagnostic Kit developed by Sansure Biotech successfully obtained the CE certification, which means that the kit can be distributed in EU countries and countries that recognize the CE certification.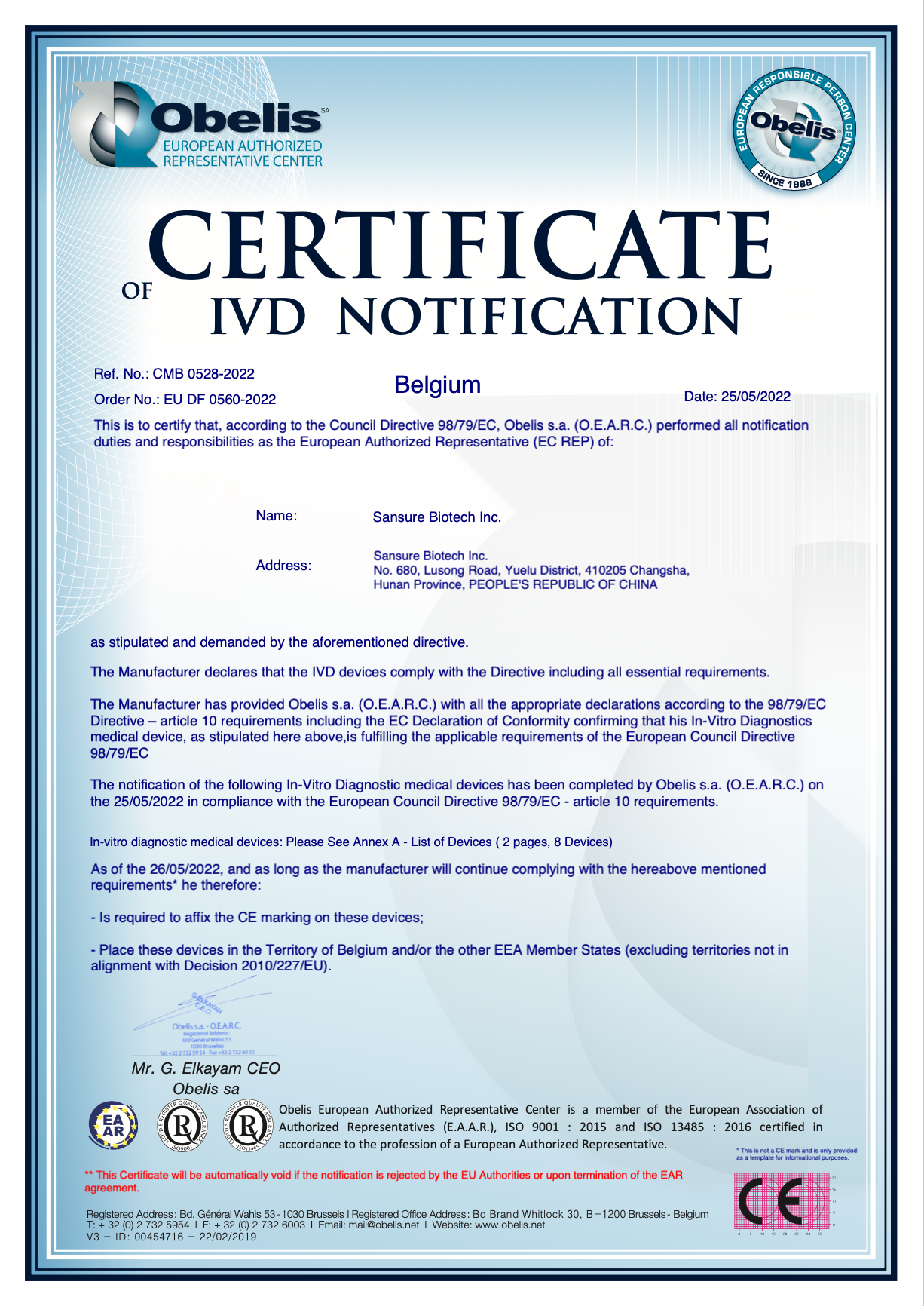 Currently, unusual cases of monkeypox have been reported in several countries, including the United Kingdom, Spain, and Portugal, posing a challenge to human health and social stability. The Monkeypox virus Nucleic Acid Diagnostic Kit launched by Sansure Biotech has the characteristics of high sensitivity and simple operation. It is compatible with fluorescence PCR platform and Sansure Biotech's POCT platform, and can be rapidly applied on Sansure Biotech's COVID-19 molecular diagnostics platform. This kit is detectable in as fast as 8 minutes on iPonatic and up to 96 samples can be detected within 30 minutes on conventional PCR instruments.
At present, Sansure Biotech has received orders from Spain, UAE, South Africa and many other countries for Monkeypox virus Nucleic Acid Diagnostic Kit, mainly for emergency stockpiling. At the same time, the company is advancing the urgent registration and testing and evaluation of the kit in several countries.
Sansure Biotech has been working in the field of molecular diagnostics for more than 10 years and has developed diagnostic kits for SARS-CoV-2, Middle East respiratory syndrome coronavirus, Ebola virus, avian influenza virus and African swine fever virus for various outbreaks of epidemics, and has exported accurate, rapid, simple and high-throughput "Sansure Solutions" for epidemic prevention and control in more than 160 countries and regions around the world.