Sansure at Medlab Asia: Molecular Diagnostic Solutions on Show
---
Sansure Biotech
Oct 21, 2022
One of the leading medical events in the ASEAN region has returned. From 19 to 21 October, the Impact Exhibition Centre in Bangkok hosted Medlab Asia & Asia Health 2022. At this exhibition, which brings over 200 companies from the ASEAN region, Sansure presented a wide selection of molecular diagnostic products. Among the solutions, we showcased testing methods for COVID-19, respiratory tract infections, HPV infections, reproductive tract infections, blood-borne infections, and some other infections.
Medlab Asia & Asia Health 2022
Medlab Asia & Asia Heath is regarded as one of the leading medical events in the ASEAN region. This year's edition took place in Bangkok, Thailand, from 19 to 21 October. The event reunited over 200 leading companies and 4200professionals from the healthcare industry across 27 countries to exhibit their product lineups, such as all-in-one molecular diagnostic products, hematology analyzers, x-ray machines, IT systems, and solutions.
In addition, during the Expo, industry experts hosted a series of laboratory and healthcare conferences covering COVID-19 updates, medical laboratory management, clinical microbiology, molecular diagnostics, and more. Overall the event aims at becoming the region's best networking and business matching platform for entrepreneurs, laboratory, and healthcare professionals.
Sansure Molecular Diagnostic Solutions on Show
For 14 years, Sansure has continuously focused on innovative research and development in the molecular diagnosis field for various application scenarios. In light of Thailand healthcare market growth and the rising need for infectious disease prevention, Sansure has launched new molecular diagnosis and POCT molecular diagnostics solutions.
1. Fully automated molecular diagnostic solutions
Fully automated instruments are suitable for independent laboratories (ICL) and large general hospitals. Such equipment can analyze over 200 different types of samples every day while reducing manual operation and labor costs.
2. Automated molecular diagnostic solutions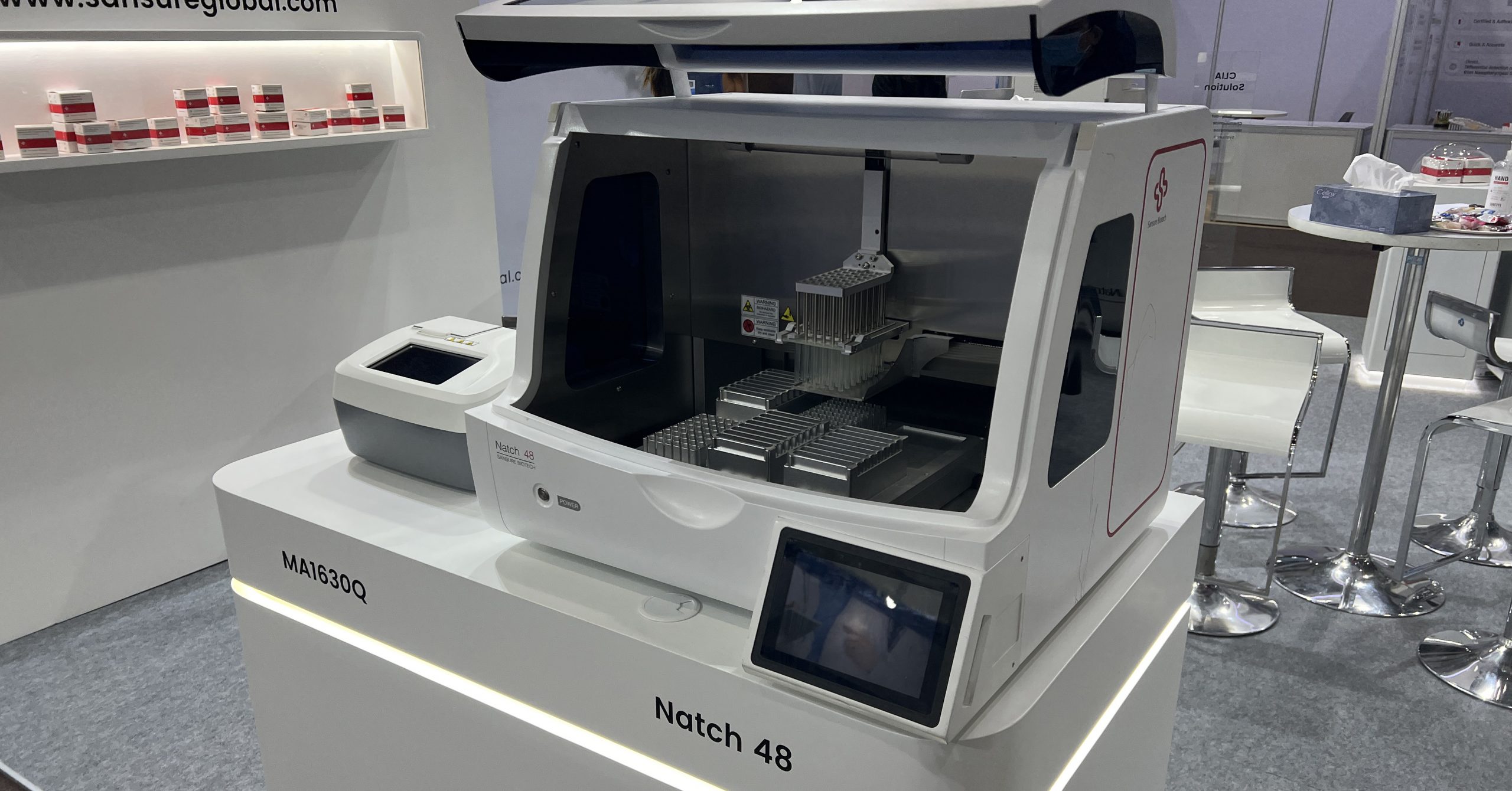 On the other hand, automated molecular diagnostic solutions are designed for specialized medical facilities, small and medium hospitals. These solutions are employed for small batch of sample extraction (6-48 specimens). The turnaround time is extremely fast, with each batch extraction only requiring 16 minutes.
3. Molecular POCT solutions
POCT solutions are flexible and simple to operate. POCT molecular stations can be utilized anywhere, including clinics and community hospitals. This system is renowned for its reduced detection time (8-45 minutes), enhanced mobility, and adaptability to a wider range of applications.
4. Rich test menu
Sansure provides 7 major integrated diagnosis solutions. The equipment offers a rich test menu, including:
In addition, during the event, Sansure hosted a seminar and invited local experts to discuss with visitors about the following topic: "Driving precision health: the rise of molecular diagnostics." The workshop was highly regarded by the participants, who had the chance to learn more about the application of molecular detection in Thailand.
About Sansure
Sansure Biotech Inc. is an in vitro diagnostic solution provider integrating diagnostic reagents, instruments, and independent clinic laboratory services with its innovative gene technology as its core. Sansure comprehensive diagnostic solutions, including molecular diagnostic reagents and instruments, debuted in Medlab Asia & Asia Health 2022.
Contact us to know more about our molecular diagnostic solutions.