International debut in the new year! Sansure's full-scenario solutions unveiled at MEDLAB 2022 in Dubai
---
Sansure Biotech
Jan 28, 2022
As the largest annual medical exhibition in the Middle East and North Africa, MEDLAB Middle East was held at the Dubai World Trade Centre from January 24th to 27th. MEDLAB attracted more than 400 world-renowned companies from nearly 40 countries and nearly 14,000 healthcare experts and academics to witness cutting-edge medical technologies around the world.
Sansure Biotech made a stunning appearance with full-scenario solutions and the latest advanced innovations, demonstrating the strength of solutions originating from China. What's eye-catching was the road flags of Sansure Biotech fluttering at the entrance of the Centre, huge exhibition boards scattering all over, and the promotional video of Sansure Biotech scrolling on the main screen… At Sansure Biotech's booth, various series of products and solutions were presented, attracting a steady stream of customers. During the on-site interview with MEDLAB TV on the first day of the event, the Sansure Biotech team attracted many specialized media as well as experts and academics to gain an insight into Sansure's products and solutions.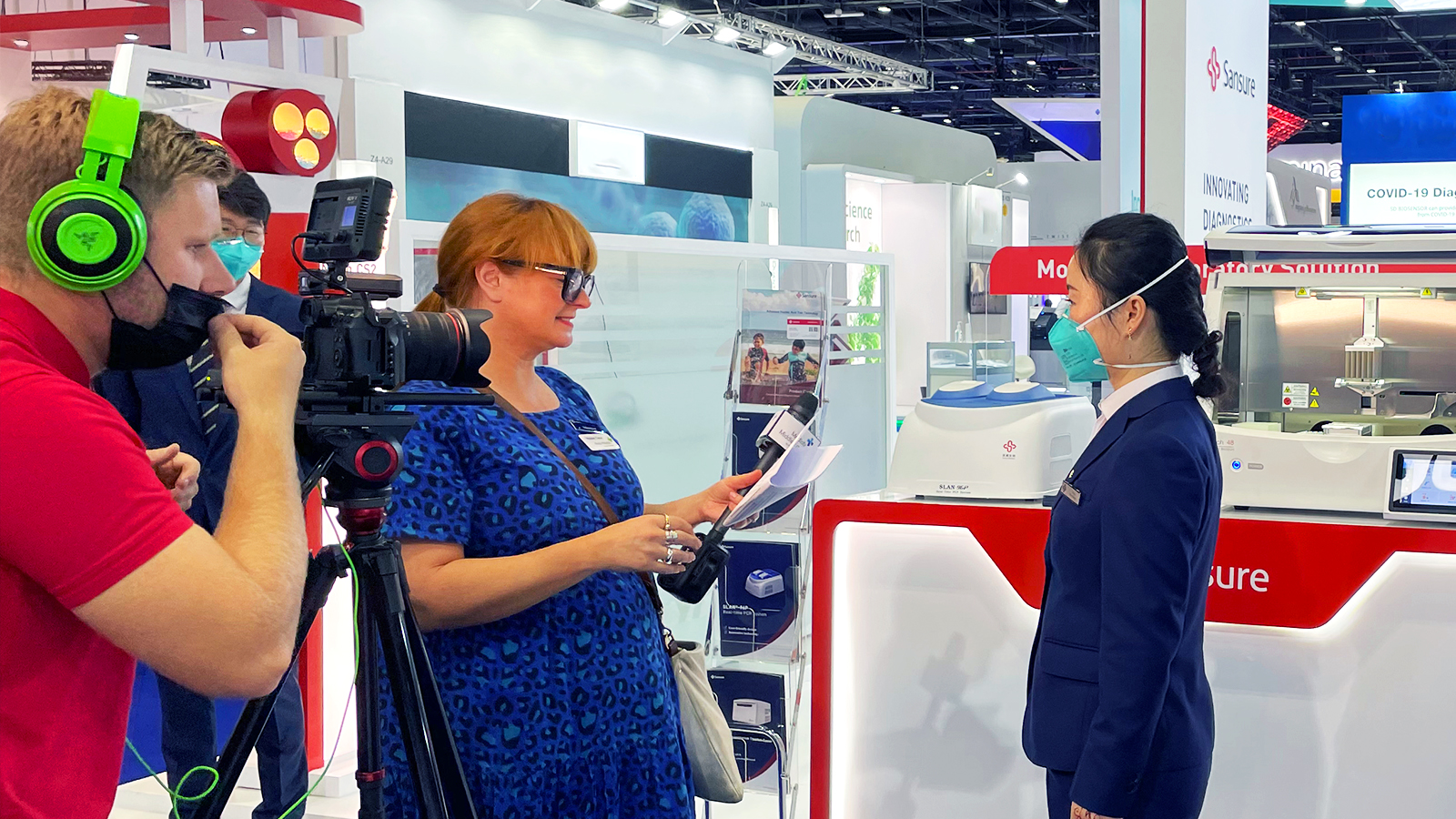 At this exhibition, the Sansure team was thrust into the spotlight by presenting various solutions to professional customers from all over the world, including the fully automated rapid detection solutions of the fully automated nucleic acid extraction systems (Natch CS2 and Natch 48) in combination with rapid PCR system to professional customers from all over the world, iPonatic 4 Modules and the latest POCT Portable Molecule Workstation, as well as a variety of innovative molecular diagnostic and antigen diagnostic products, such as a series of detection reagents for COVID-19 and other respiratory pathogens, HPV, and STIs. In response to the needs of each customer, the Sansure team introduced custom solutions ranging from reagents to instruments.
During the 4 days of the event, the Sansure team received more than 1,000 visitors from the Middle East, Europe, Africa, America, Asia, etc., and had in-depth interactions with many healthcare experts, university professors, and healthcare agents to seek cooperation opportunities.
In the new year, Sansure will demonstrate its strong innovation capability and branding strength to the world with more innovative products and quality services.