All About the Benefits of Nucleic Acid Testing for Blood Donor Testing
---
Sansure Biotech
Jun 28, 2022
Blood donor screening by nucleic acid testing (NAT) was introduced in the mid-to-late 1990s. The German Blood Transfusion Center is the first to begin in-house NAT of its donated 96 hepatitis C virus (HCV), hepatitis B virus (HBV), and human immunodeficiency virus-1 (HIV-1) samples.
According to a 2019 study, more than 60 million blood donations worldwide are tested by NAT each year. In this case, the residual risk of virus transmission through blood components and products can be reduced to almost zero.
On the other hand, NAT is still the shortest and most efficient means of getting results. Donor screening NAT also contributes significantly to our understanding of how fast the virus replicates and the corresponding diagnostic window.
This article will offer a complete guide on nucleic acid testing for blood donor testing. Keep reading!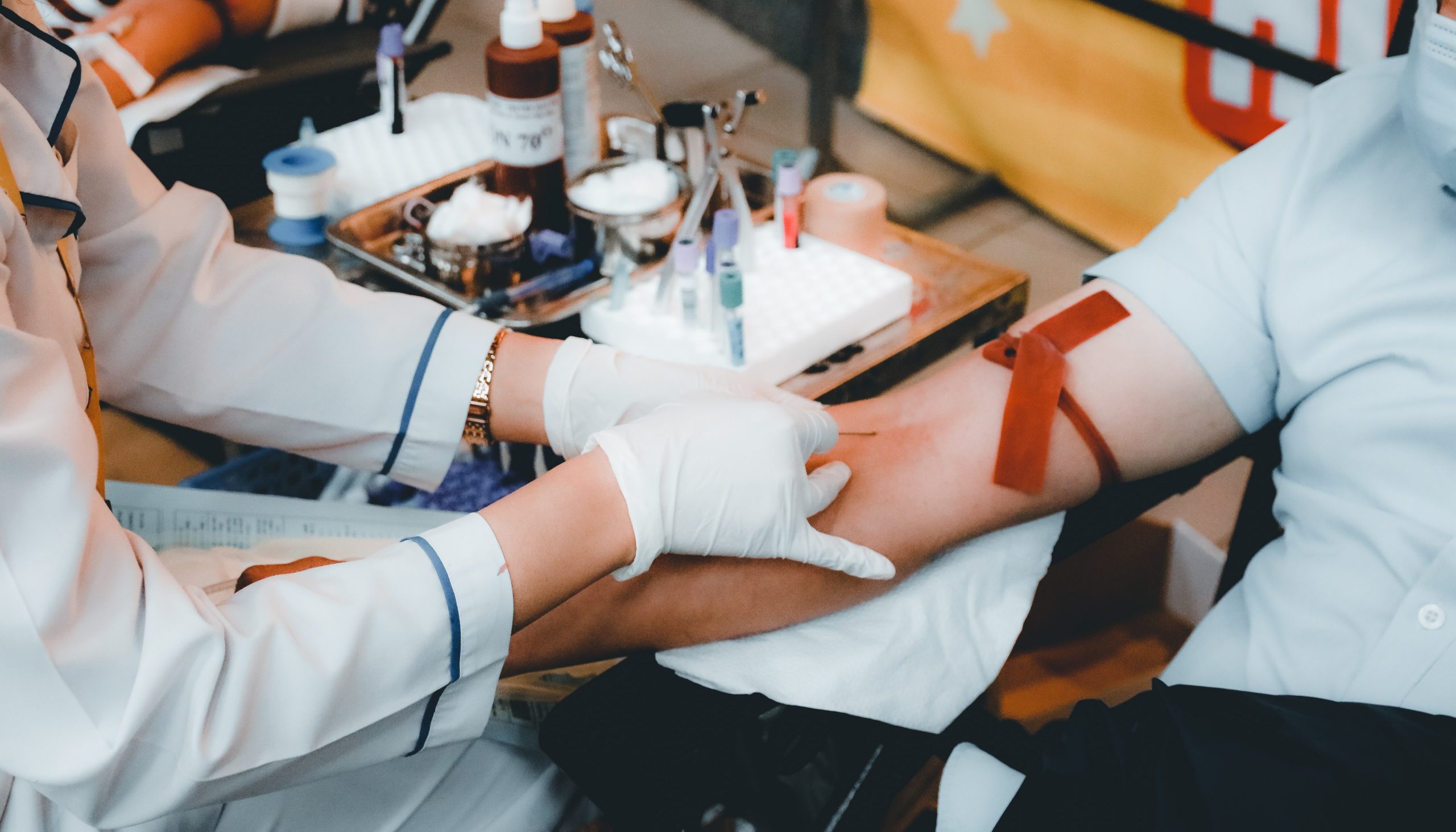 Overview of Nucleic Acid Testing
NAT is a molecular technology to screen blood donations to reduce the risk of transfusion-transmitted infections in blood recipients. Introduced in developed countries in the late 1990s and early 2000s, approximately 33 countries have implemented NAT for HIV, and about 27 countries implement NAT for HBV.
NAT technology is highly sensitive and specific to viral nucleic acids. It is based on the amplification of target regions of viral ribonucleic acid (RNA) or deoxyribonucleic acid (DNA), detecting them earlier than other screening methods, thereby shortening the window period for HIV, HBV, and HCV infection.
Importance of Blood Donor Screening and the Value of Nucleic Acid Detection in Blood Screening
Every year, millions of people worldwide receive blood transfusions or blood products. According to the data, the blood screening market was valued at USD 1.8 billion in 2020 and is expected to reach USD 4.6 billion by 2028, growing at a CAGR of 11.9% from 2021 to 2028. Therefore, blood safety is a top priority, especially given the high prevalence of HIV, HBV, and HCV in the general population.
Although a combination of testing and policy decisions has made the blood supply in many countries one of the safest in the world, there are still some risks of transfusion-transmitted infections caused by blood-borne diseases. Therefore, laboratory screening of donated blood and blood products for infectious diseases is a critical safety measure to protect patients and prevent the spread of serious diseases.
The traditional blood donation screening method, immunoassay (or serological) testing, is the primary method for screening blood donors. However, a gap exists between a blood donor's exposure to the virus and the production of antibodies against the virus, called the "windowperiod" (WP). During this period, immunoassay tests may miss the risk of blood donation infections. These undetected WP infections are responsible for much of the transfusion transmission of these viruses.
Therefore, many developed countries have implemented NAT in blood donor screening to reduce the risk of transfusion-transmitted virus infection. NAT can detect HIV, HBV, and HCV cases in blood donor samples not detected by serological testing. In addition, NAT can shorten the window period to 10.34 days for HBV, 1.34 days for HCV, and 2.93 days for HIV.
The Future of Nucleic Acid Detection in Blood Screening
Blood donation screening has been almost fully automated since the introduction of NAT in blood screening. NAT also reduces the residual risk of the transfusion-transmitted virus to almost zero. Since blood donation NAT has reached the diagnostic end goal of detecting the presence of 1 DNA/RNA molecule in the reaction tube, progress will likely be made around this breakthrough technology. This could include increased multiplexing capabilities and comprehensive laboratory automation, which is especially attractive for large blood centers with thousands of samples per day. On the other hand, small benchtop devices with high flexibility and a wide detection range for small and medium-sized blood banks will be more suitable for patient diagnosis and blood donor screening.
Sansure Solution: Nucleic Acid Test Kit for HBV, HCV, HIV (Type1+2) (C004E)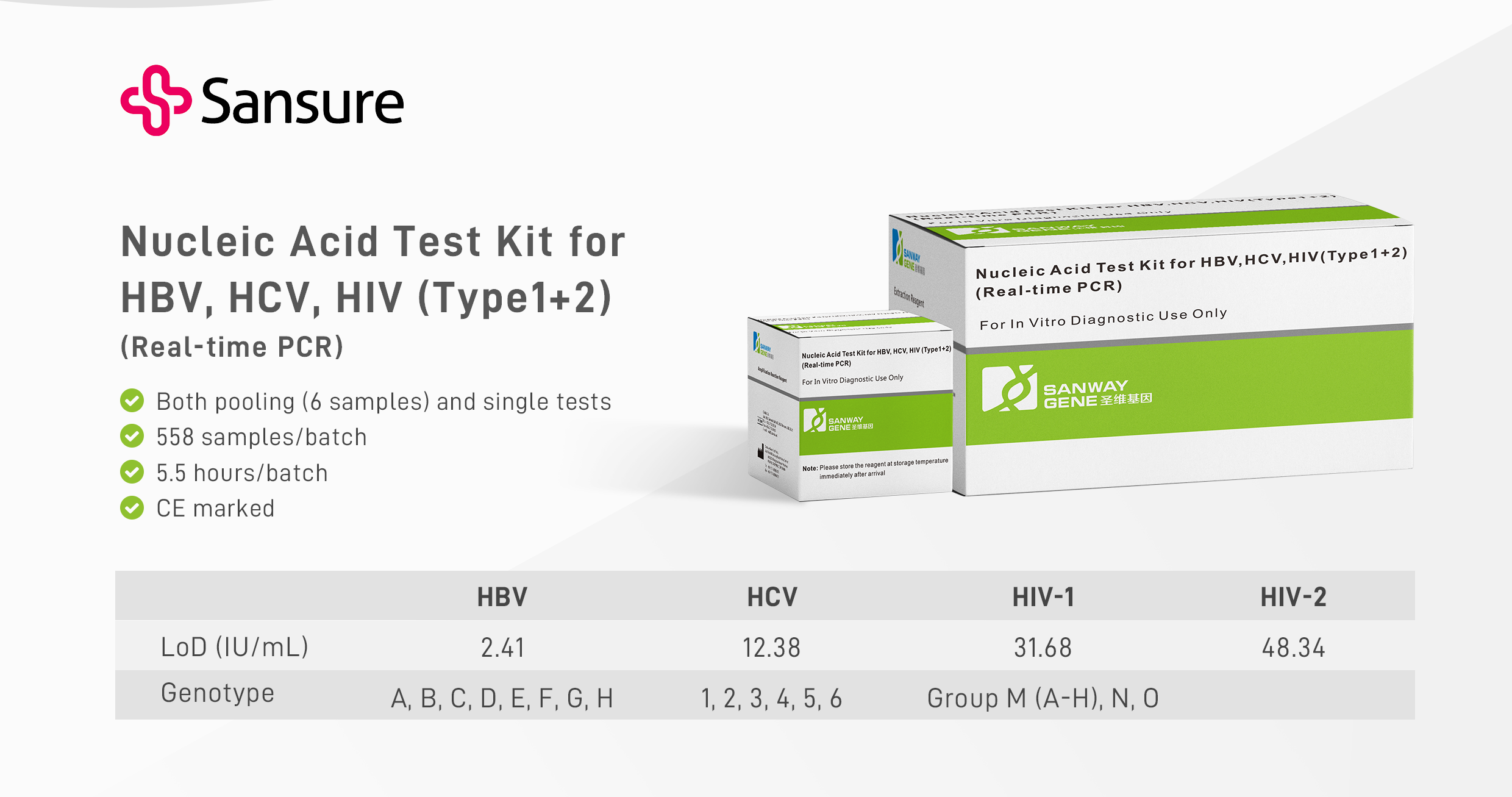 Nucleic Acid Test Kit for HBV, HCV, HIV(Type1+2) is based on real-time fluorescence PCR technology and used for the nucleic acid qualitative detection of HBV, HCV, HIV1+2 in plasma. This kit is intended for use as a blood donor screening test to detect HBV DNA, HCV RNA, HIV-1 RNA, and HIV-2 RNA in pooled or individual samples from healthy blood donors, blood donors of various components, and other types of blood donors. The test results of this diagnostic kit can distinguish the reactivity of HBV, HCV, and HIV. The following are the main features of this product:
Sample preparation and extraction in one module
Flexible test mode
Advanced magnetic bead technology
Patented magnetic bead side suction technology
Sophisticated sample information processing
high throughput
Minimal system maintenance time
Excellent accuracy
Why choose Sansure
Sansure Biotech Inc. was established in 2008. After all these years of development, Sansure has developed a series of internationally leading core technologies and more than 500 products with performance exceeding the advanced level at home and abroad.
In addition, we have obtained CE List A certificate.
We aim to provide all people with accessible and innovative genetic technologies, products, and services. Contact us!