Accelerating Internationalization! Sansure Biotech has reached a strategic cooperation with Emergo by UL.
---
Sansure Biotech
Mar 10, 2021
Recently, Sansure Biotech has formally reached a strategic cooperation with Emergo by UL, a world-renowned medical device and IVD device market compliance agency, and signed a global strategic cooperation agreement. Jia Liu, Executive Dean of Sansure Biotech Life Science Institute, and Guiguo Gu, General Manager of Emergo by UL Asia Pacific, attended the signing ceremony and signed the cooperation agreement on behalf of both parties.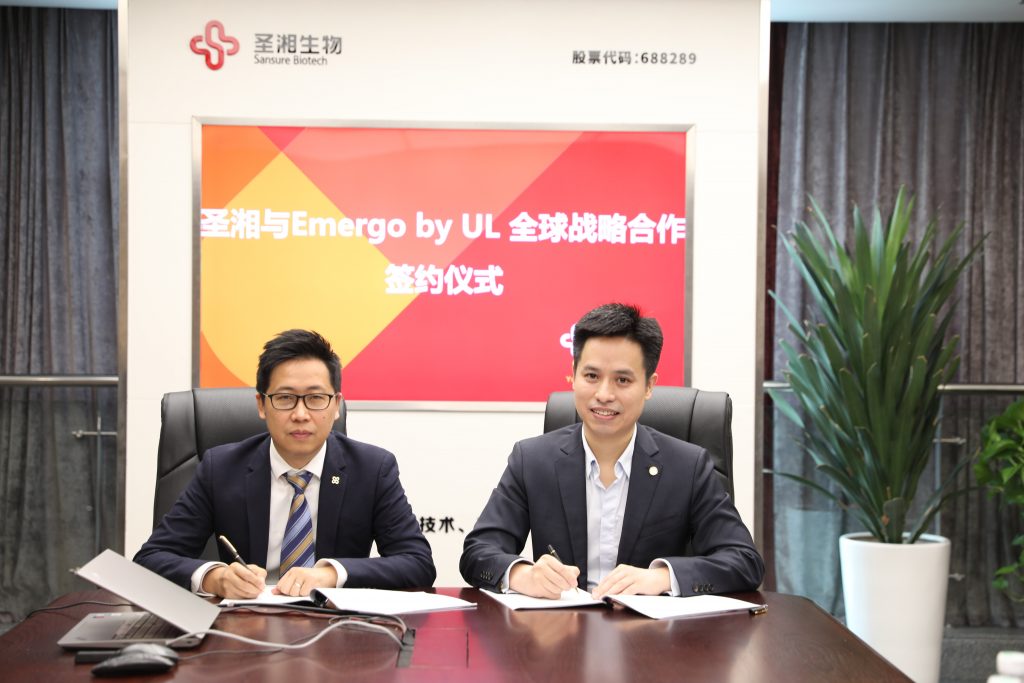 As the world's leading medical device and IVD device compliance consulting agency for overseas markets, Emergo by UL has more than 20 years of industry experience, and has always been committed to market compliance in the medical industry. Helping medical companies to accelerate the registration of compliance in the local market with a professional and global resource network is the mission of Emergo by UL. In 2020, the global team of Emergo by UL responded actively to assist many medical device and IVD companies around the world in accelerating the achievement of compliance in overseas markets, and help them to open a channel for the export of materials for disease prevention and control.
Jia Liu, Executive Dean of Sansure Biotech said that the professional and efficient service provided by Emergo by UL support the overseas market registration of local companies. Sansure Biotech will invest more resources in the field of molecular diagnostics by making full use of cooperation opportunities. By launching more high-quality products in overseas market, Sansure Biotech will devote itself to the prevention and control of infectious diseases and cancer, women's and children's health, blood screening, chronic disease management, prevention and control of sudden epidemic. We aim to promote genetic technology to become the backbone of human health.
General Manager Guiguo Gu said that Emergo by UL will provide customized service for the long-term development of Sansure Biotech by making full use of the advantages of global resources. It will also provide full life cycle compliance support for IVD equipment, aiming to achieve overseas market compliance, and accelerate opening a new layout in overseas markets, helping Chinese companies to fully demonstrate the innovative strength in the international market.
Keyword search: Emergo by UL
Founded in 1997, Emergo is the world's leading medical device and IVD compliance consulting agency for the global market. In 2017, UL, a world-renowned testing and certification organization with a history of 120+ years, acquired Emergo, and Emergo was renamed Emergo by UL. Its business covers countries and regions in Asia, the United States, Europe, etc., and has provided one-stop market access solutions such as registration, local representatives, human factors engineering usability study and design, and digital health network security for more than 1,000 medical device and IVD device companies around the world. Emergo has senior regulatory and technical team with an average of more than 10 years of medical device study and compliance experience. It extensively participates in standards committees at home and abroad, and is able to provide medical device and IVD companies with professional and feasible overseas market layout strategic consulting and suggestions.