Sansure's HIV-1 RNA Diagnostic Kit is Approved for Marketing
---
Sansure Biotech
Sep 15, 2022
Recently, the Human Immunodeficiency Virus Type 1 RNA Quantitative Fluorescence Diagnostic Kit (PCR-Fluorescence Probing) independently developed by Sansure Biotech has been reviewed and approved for marketing by the National Medical Products Administration (NMPA Registration No.: 20223401175). The reagent is applicable to the quantitative detection of Human Immunodeficiency Virus Type 1 RNA in human blood samples and monitor the virological response of patients during antiviral therapy, and it has obtained the CE-IVD (List A) clearance previously.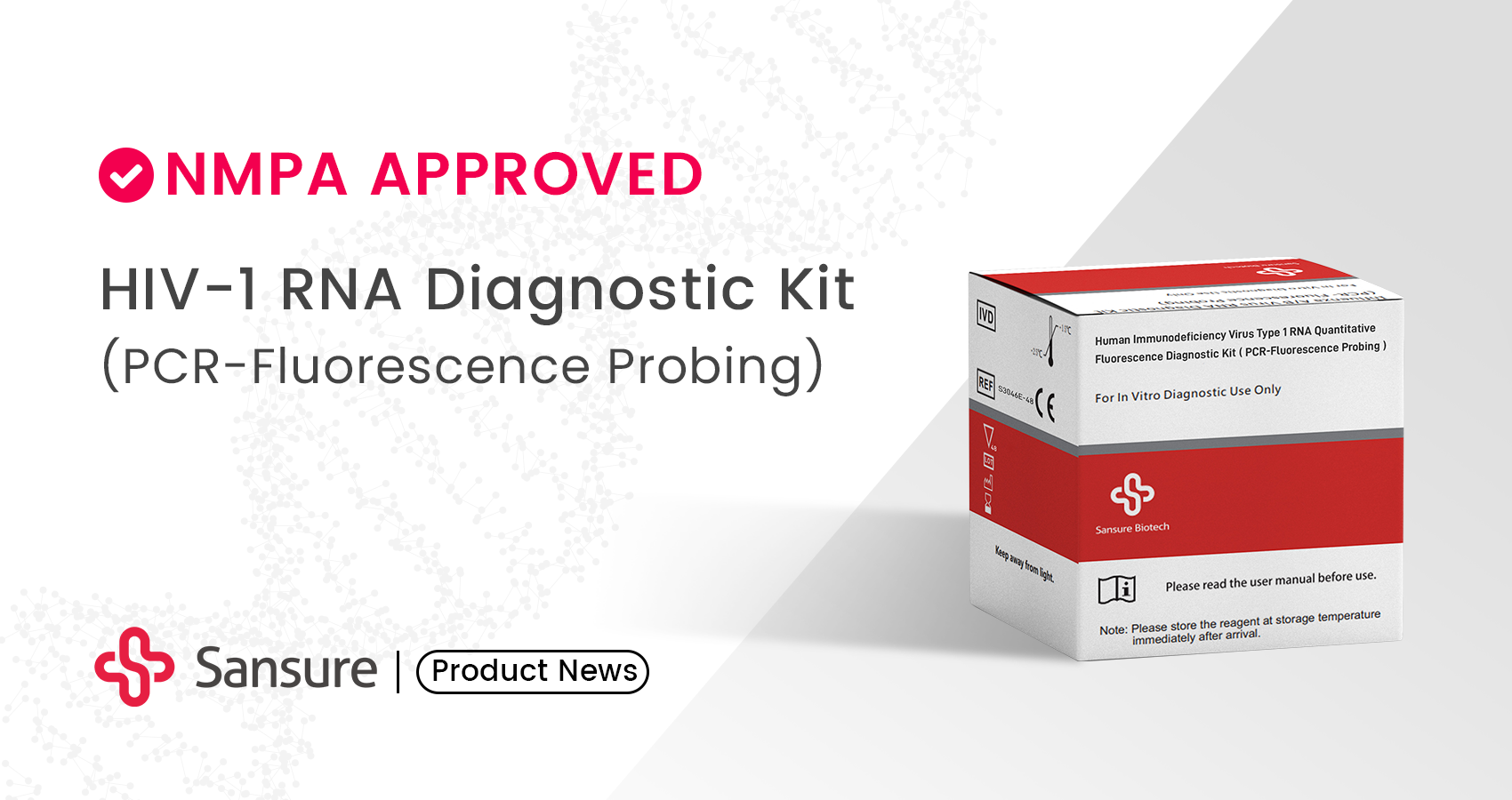 Professor Li Taisheng, Director of Department of Infectious Diseases, Peking Union Medical College Hospital, said:
Sansure's high-sensitivity HIV-1 RNA Diagnostic Kit can provide scientific monitoring in the whole course of the diagnosis and treatment of AIDS for the majority of patients, helping to detect virologic failure as early as possible during follow-up treatment, timely adjusting the treatment regimen, and reducing the risk of subsequent drug resistance accumulation in order to improve the patient's long-term survival rate.
The kit adopts real-time fluorescence quantitative PCR technology with a sensitivity up to 25 IU/ml (12 copies/ml); it adopts a dual-target design to avoid missed detection to the greatest extent; the platform is highly accessible and can be equipped with a variety of semi-automatic and full-automatic instruments for extraction and adapted to a variety of PCR analyzers.
According to data released by the UNAIDS in 2021, there were about 37.7 million people living with HIV worldwide in 2020, of whom about 10.2 million were untreated, about 1.5 million were newly infected that year, and about 680,000 died of AIDS that year. According to the data released by the National Health Commission, as of the end of October 2021, there were 1.14 million existing cases of HIV infection in China. Curbing and ending the AIDS epidemic is an important part of the Tutorial for Outline of the Healthy China 2030 and one of sustainable development goals of United Nations in 2030, and achieving "early detection and early treatment" for people infected with HIV is of great significance.
Sansure is committed to making genetic technology benefit the world. The HIV-1 RNA Diagnostic Kit approved for marketing provides a powerful tool for the diagnosis of blood-borne infectious diseases. The product has been passed the comparative tests by a number of domestic and international authorities, which shows that its sensitivity, specificity and other performance have reached the international leading level, enabling the quantitative nucleic acid detection of HIV-1 virus more accurate, efficient and convenient, and helping the whole process of HIV prevention and control to be more accurate.