Sansure Attendance at WorldLab EuroMedLab Roma 2023 Reached a Full Success
---
Sansure Biotech
May 26,2023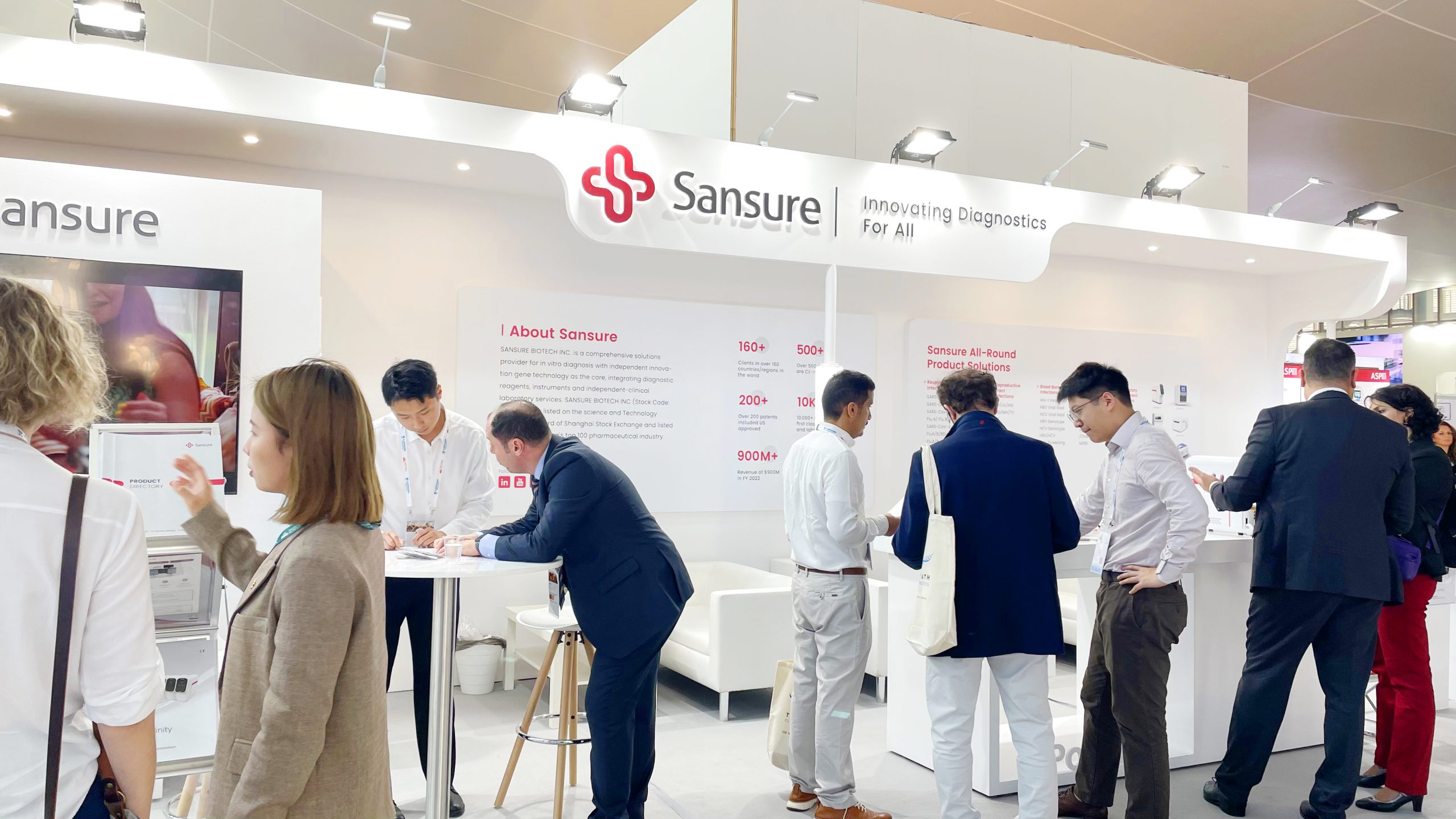 WorldLab and EuroMedLab host a biannual congress, a famous forum in laboratory medicine and clinical chemistry. The exhibition brings scientists, laboratory specialists, and clinicians together for scientific exchanges and advancement. The 25th Congress occurred between the 21st May and 25th May 2023 at the new Rome Convention Center, "The Cloud," Rome, Italy.
Sansure's attendance at this Congress aims to present some of our technological advancements in molecular diagnostics, focusing on point-of-care testing(POCT). The WorldLab – EuroMedLab congress is themed "Meeting the rising tide of chronic diseases," which coincides with Sansure's mission of providing accessible and innovative genetic technologies, products, and services for the world. This is a great opportunity for medical professionals, especially laboratory services, to get a first-hand experience with some innovative and convenient technologies.
Sansure's Development, Dedication, and Strengths
Sansure is a global brand that focuses on the molecular diagnostics sector. We integrate diagnostic reagents, instruments, and decentralized clinic laboratory services with our innovative gene technology, providing in vitro diagnostic solutions.
Sansure aims to grow into a one-stop shop for genetic technologies. We have established the National Demonstration Center for the Application of Genetic Testing Technology. This is a milestone that has seen Sansure grow into a trusted supplier of solutions for molecular point-of-care testing (mPOCT).
Also, as one of the National Joint Local Engineering Research Centers for Genetic Diagnosis of Infectious Diseases and Tumors, Sansure seeks to develop a production foundation for precise and intelligent molecular diagnostic systems that make laboratory testing as simple and efficient. Sansure has created a wide range of technologies and applied them to over 500 products.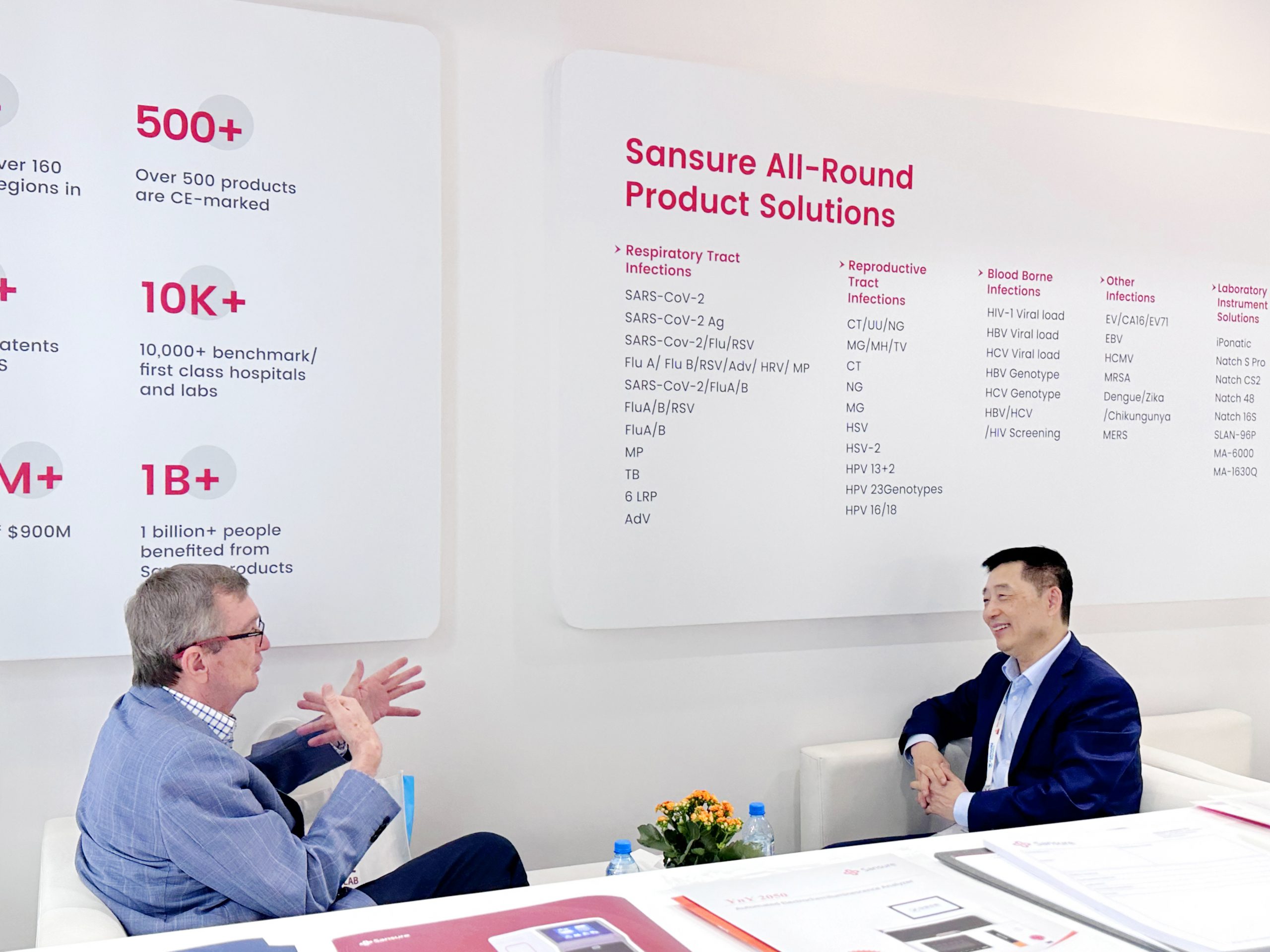 Sansure's Booth at the Show
This year at the WorldLab EuroMedLab Roma 2023 congress, Sansure aims to present one of some innovations in point-of-care testing technologies. The iPonatic III – Portable Molecular Workstation is one of our achievements in molecular diagnostics. By minimizing both time and expenses while maintaining utmost precision, this molecular POCT device embodies the ideal characteristics of the rapid one-tube nucleic acid extraction technique.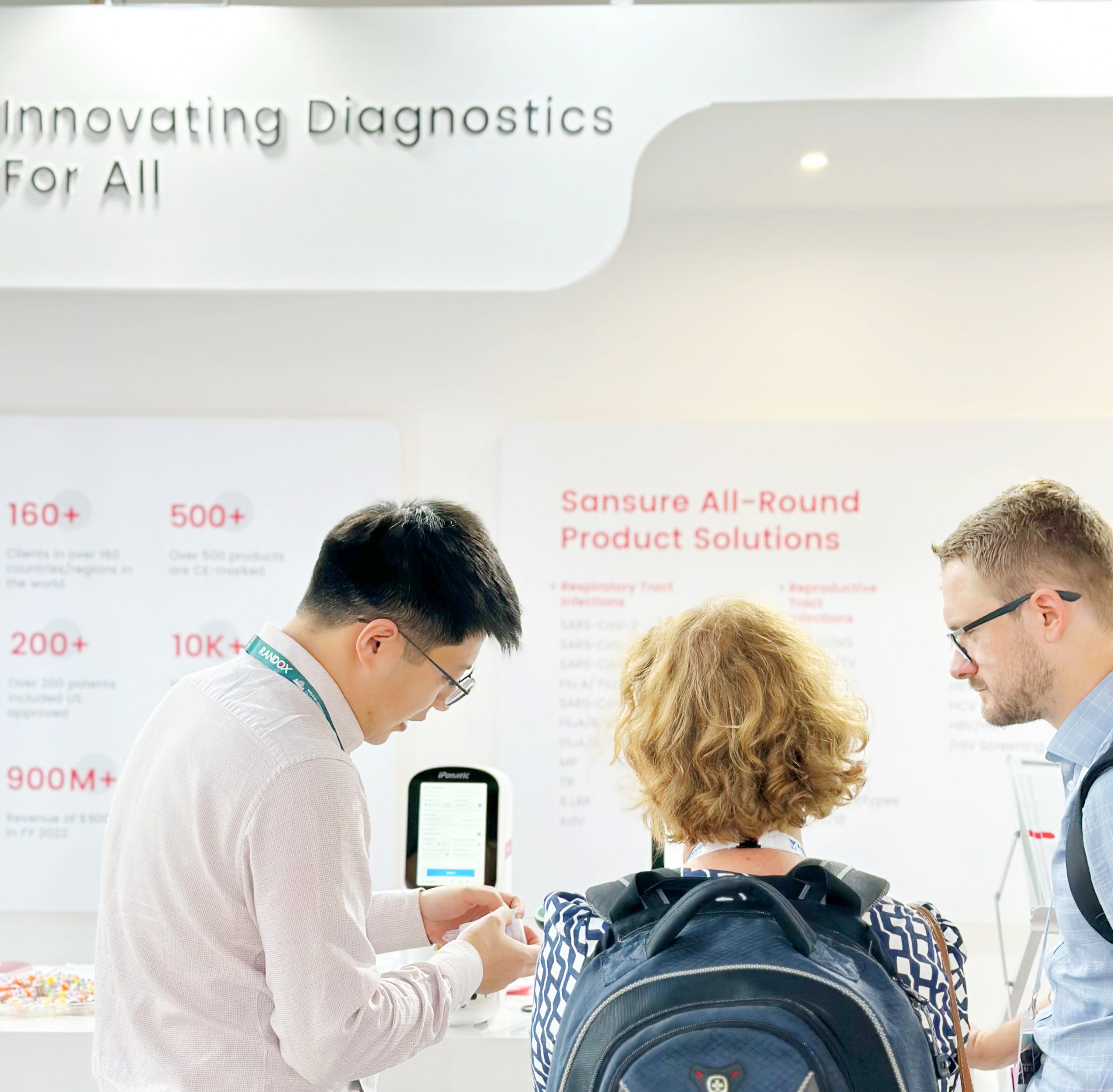 The workstation is a new member of Sansure's iPonatic series, designed to embrace new digital intelligence in molecular diagnostics. It offers the following features: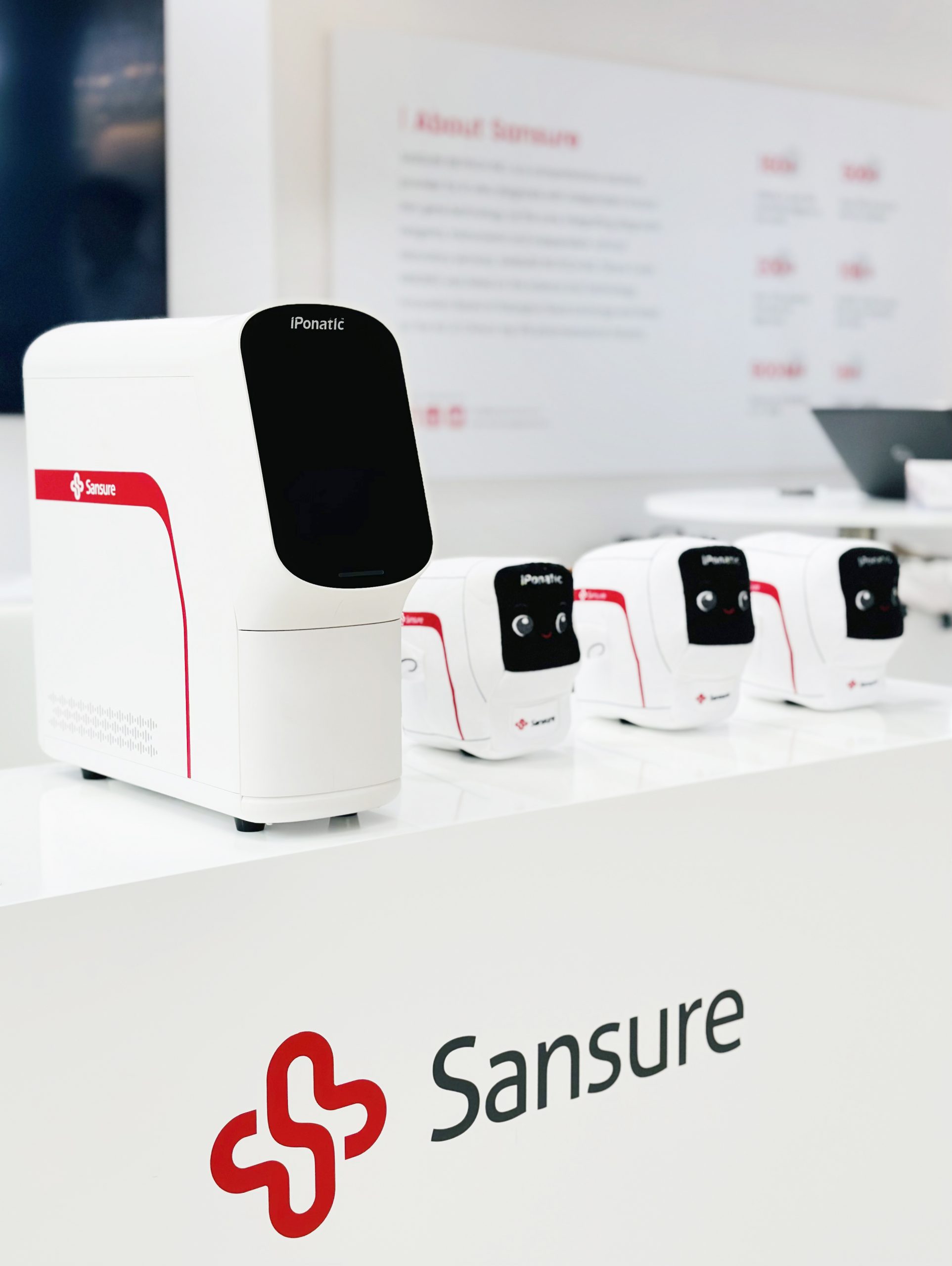 1. Fully automated rapid testing process
This portable workstation makes mPOCT easier. Its automated systems make the testing process fast using a 'sample-in-result out' system. You can get the results in 15-45 minutes, unlike traditional methods that could take hours.
2. Pre-packaged kits
Manual handling and prolonged testing periods are the main causes of contamination during testing. The pre-packaged kits for the iPonatic III eliminate this threat by shortening hands-on time.
3. Sample-in, result-out
The easy procedure of placing the sample inside the workstation and directly getting the results assures great convenience. iPonatic's rich and extendable testing menu meets many testing needs, no matter the pathogen and scenario.
4. State-of-the-art SanUI
Sansure aims to be a leader in point-of-care testing technologies. It has shown this through the innovativeness of this product. With the state-of-the-art SanUI interactive system and the HD smart touch screen, users get clear visual of the result immediately and directly.
5. Wireless connection & Flexible combination
The iPonatic Ⅲ offers flexible interfaces, allowing you to transmit data in 6 approaches: USB2.0, RJ45, Type-C, Wi-Fi, Bluetooth, and LIS_LH7. That means the risk of facing connection challenges can be reduced, and samples can be tested promptly.
6. A distinctive design
The iPonatic III has a sleek, integrated, light, and compact appearance, showing Sansure's practical but aesthetic design standards.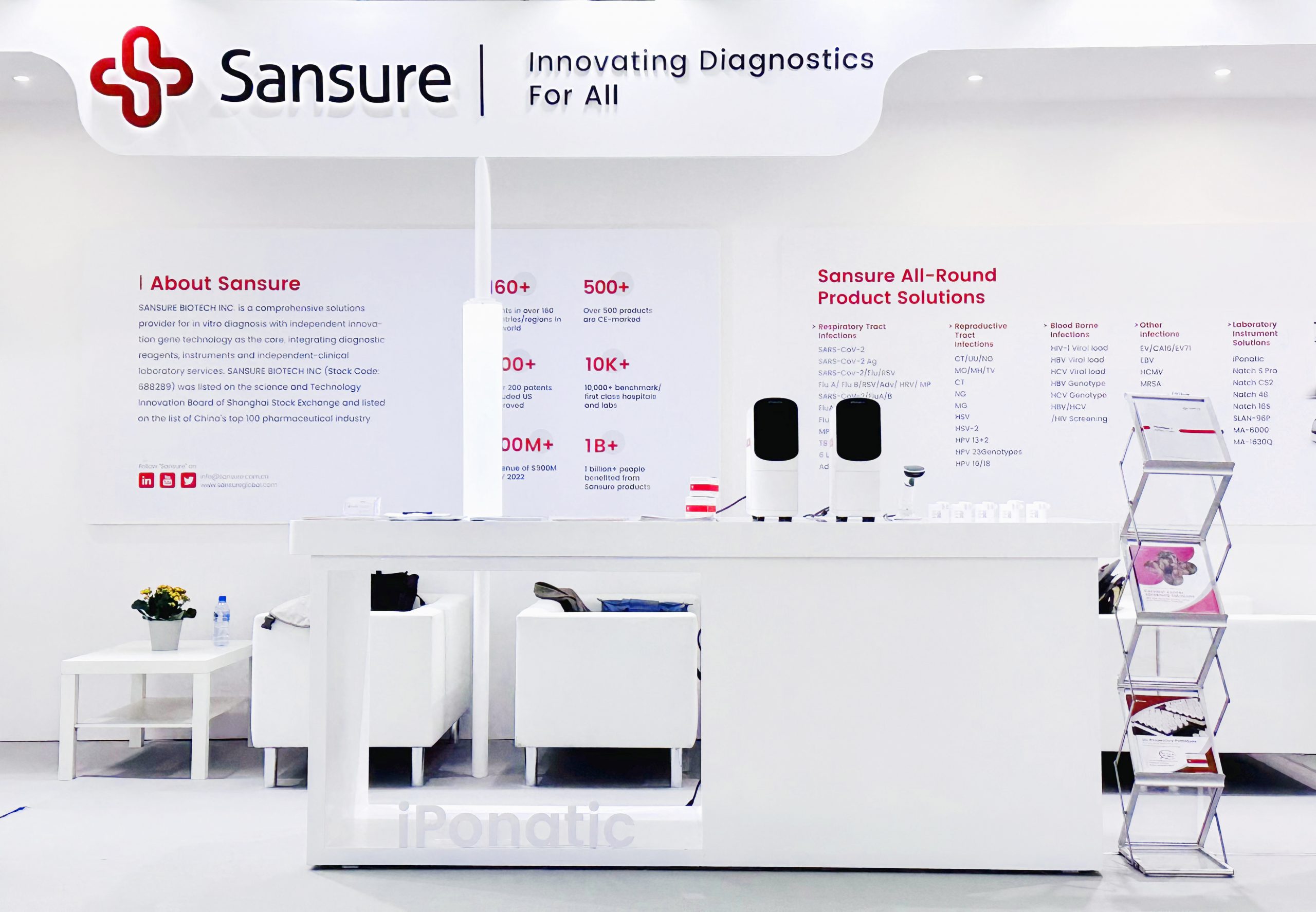 Sansure's Promising Future
In 2008, Sansure established the Reagent product line. In 2009, we developed the precision advancement of magnetic-beads technologies and launched a high-precision Hepatitis B Nucleic Acid Diagnosis kit. Over the years, we have grown wider and stronger, creating more innovative solutions for different applications. We have focused on precision and high quality in every health diagnosis-related product.
As the future of medical diagnostics continues to grow, Sansure is set to expand branches, considering our role in the innovative technologies fueling this sector. The research and development team is taking chances with emerging technologies to offer innovative solutions.
Conclusion
The WorldLab-EuroMedLab congress is a great platform for medical technology companies to showcase their products. Sansure strives to promote genetic technology using the mPOCT systems and similar tools that improve human health services.
Reach out to Sansure's support team if you want to know more about Sansure Biotech Inc. and our product lines. Our team is always ready to offer any assistance and answer your questions!