During the Seasonal Influenza, Why Differentiate Flu and COVID-19 Matter
---
Sansure Biotech
Nov 15, 2022
Seasonal influenza has finally arrived during the fall and will peak between December and February. Together with the ongoing battle with COVID-19, these two viruses can pose an even greater threat to communities worldwide. Influenza (Flu) and COVID-19 are both contagious respiratory illnesses, yet caused by different viruses. Because some of the symptoms of flu and COVID-19 are similar, it may be impossible to tell the difference between them based on symptoms alone. For this reason, testing remains the key to helping confirm a diagnosis.
In this article, we will discuss the main similarities and differences between SARS-CoV-2 and Influenza A/B. At the same time, we will introduce you to Sansure's SARS-CoV-2 and Influenza A/B Virus Multiplex Nucleic Acid Diagnostic Kit and SARS-CoV-2/InFluA/InFluB Rapid Antigen Test (Immunochromatography Assay).
SARS-CoV-2 and Influenza A/B: Similarities and Differences
Let us look at the main similarities and differences between COVID-19 and seasonal flu based on symptoms, spread, and approved treatment.
COVID-19 and seasonal influenza share many signs and symptom degrees, ranging from asymptomatic to severe conditions. Below we have listed the common symptoms shared between the two viruses. 
Fever
Shortness of breath
Cough
Sore throat
Runny nose
Headache
Muscle pain
Fatigue
Vomiting and diarrhea (common in children while rare in adults)
Besides the sign listed above, COVID-19 is reported to cause a change in or loss of taste and smell.
COVID-19 and flu can spread from person to person in close contact (within about 6 feet). The two viruses are primarily transmitted through droplets made when people with the illness cough, sneeze or talk. In addition, it may be possible that a person can get infected by physical human contact or by touching an infected surface and then touching their mouth, nose, or possibly eyes. In both cases, the virus can be passed by asymptomatic or people who have yet to show the symptoms.
That said, even though flu and COVID-19 viruses spread similarly, the latest is more contagious and can spread faster among certain populations and age groups.
Patients at high risk of complications or reporting serious symptoms due to COVID-19 or flu should receive supportive medical care for treatment.
According to the CDC, people hospitalized with flu should be treated with antiviral drugs. On the other hand, for COVID-19 treatment, there are currently no drugs or other therapeutics approved by FDA. Some treatment options are antiviral agents (e.g., remdesivir) that are being explored as a treatment and are available under an Emergency Use Authorization (EUA).
Why Testing for SARS-CoV-2 and Influenza A/B is Important
As we mentioned above, COVID-19 and seasonal influenza shares similar symptoms. Besides, people can be infected with both flu and COVID-19 simultaneously. As a result, a diagnosis cannot be made based on symptoms alone, and testing is required. Early detection and differentiation of infection can triage COVID-19 patients from other patients to reduce the pressures on medical resources distribution and curb the spread of the epidemic by applying proper prevention measures for COVID-19. In addition, making a correct diagnosis in the early stages results in more effective antiviral medications and higher chances of avoiding further complications.
Sansure Recommended Solutions
Our researchers have developed two new combo test kits to improve diagnosis effectiveness and support treatment for both COVID-19 and flu.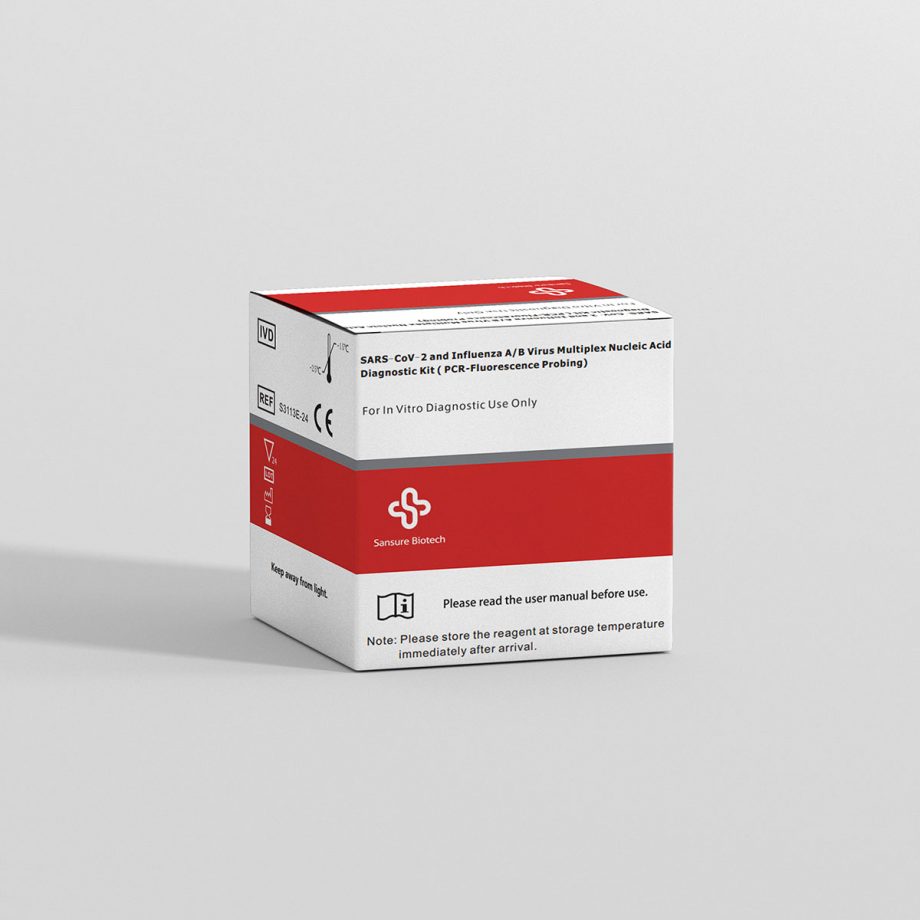 SARS-CoV-2 and Influenza A/B Virus Diagnostic Kit and SARS-CoV-2/InFluA/InFluB Rapid Antigen Test have both received CE qualification and can detect joint-detect SARS-CoV-2 and Influenza A/B. The tests can gather specimens through oropharyngeal swabs or sputum.
SARS-CoV-2 and Influenza A/B Virus Diagnostic Kit is based on one-tube fast-release technology. It is used to directly detect the presence of viral RNA, which will be detectable in patients before antibodies form or disease symptoms are present. This translate into our test being fundamental to early detection and effective treatment.
The second option, the SARS-CoV-2/InFluA/InFluB Rapid Antigen Test adopts latex immunochromatography technology and utilizes double-antibody-sandwich method to qualitatively detect SARS-CoV-2/InFluA/InFluB antigen.
Contact us to learn more about Sansure's molecular diagnostic solutions.