Bringing Hepatitis Care Closer to You! HBV DNA Test Matters as Much as Vaccination
---
Sansure Biotech
Aug 04, 2022
Hepatitis is a life-threatening condition that causes liver inflammation and can progress to liver cirrhosis or liver cancer if not identified and treated early. That is why the World Health Organization (WHO) took it upon itself to begin World Hepatitis Day; an annual event that celebrates and raises global awareness of all hepatitis-related illnesses.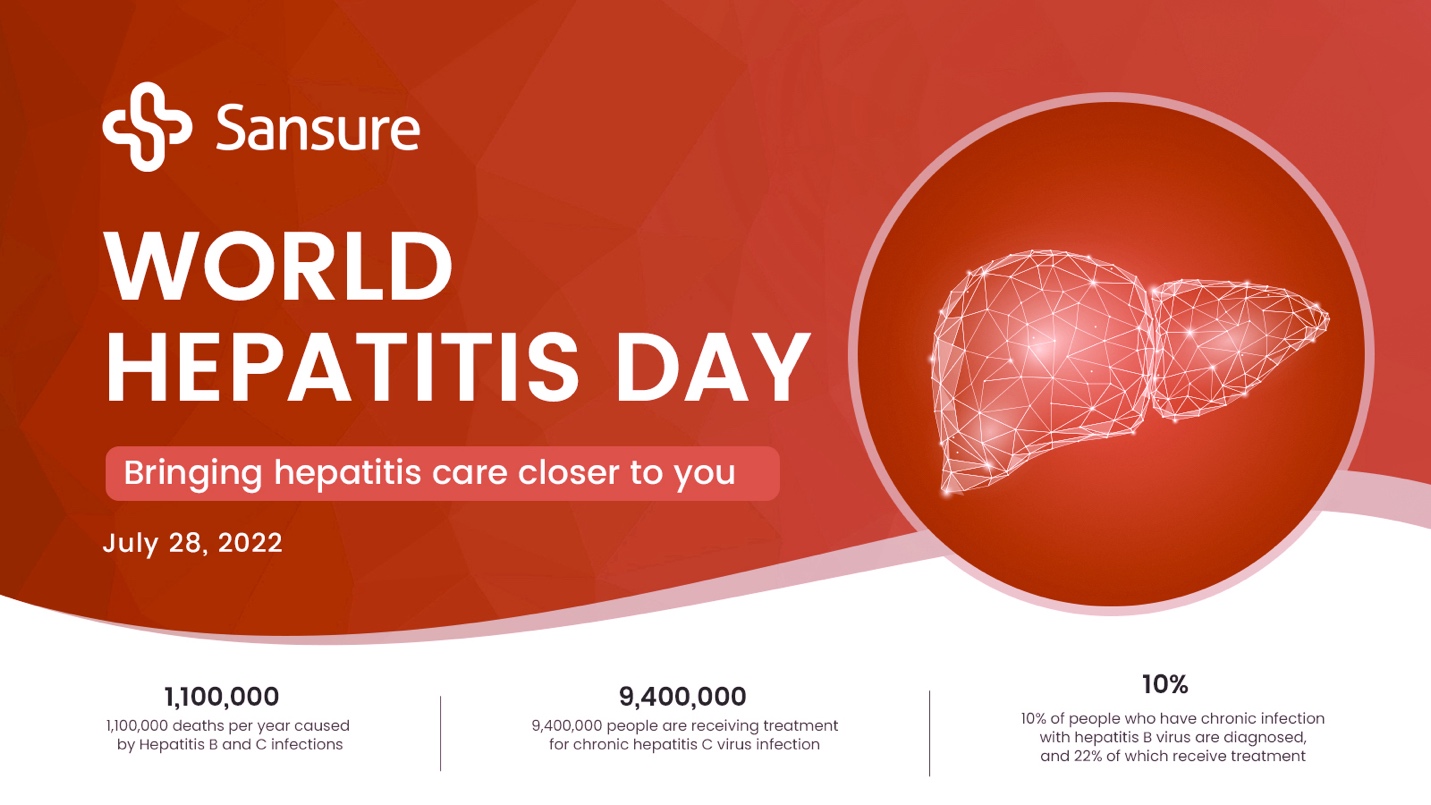 This year's Hepatitis Day theme Bringing Hepatitis Care Closer to You [1] emphasizes the importance of fighting viral hepatitis, HBV DNA test, and treatment for individuals who need it. WHO recognizes that the first step towards reducing and eliminating hepatitis is through an HBV quantitative test that progresses to treatment solutions.
Information about Hepatitis
Before looking at hepatitis prevention involving HBV DNA test, it's crucial to gain some insight into this condition. Hepatitis refers to the inflammation of the liver. There are five main classifications of this condition, and they include:
Hepatitis A–This is a contagious liver infection caused by the hepatitis A virus (HAV), and if left untreated, it can lead to acute liver failure.
Hepatitis B–A prevalent and severe liver infection caused by the hepatitis B virus (HBV). If not detected and diagnosed earlier, the condition leads to liver failure, liver cancer, kidney diseases, blood vessel blockage, and anemia.
Hepatitis C– A condition that comes from the hepatitis C virus (HCV) and spreads through contaminated blood. If the condition continues for many years, it can cause serious complications like liver cancer, liver cirrhosis, hepatitis encephalopathy, and liver failure.
Hepatitis D – The inflammation of the liver caused by the hepatitis D virus (HDV) is called hepatitis D. Hepatitis D infection cannot occur without the exitance of hepatitis B virus, and HDV requires HBV for its replication. HDV-HBV co-infection can be deemed as the most severe form of chronic viral hepatitis due to more rapid progression towards hepatocellular carcinoma and liver-related death.
Hepatitis E- A condition that comes from the hepatitis E virus (HEV) that can cause inflammation of the liver. The virus has at least 4 different types: genotypes 1, 2, 3 and 4. Genotypes 1 and 2 have been found only in humans. Transmitted mainly through contaminated drinking water, HEV infection is usually self-limiting and resolves within 2–6 weeks. Occasionally a serious disease known as fulminant hepatitis (acute liver failure) develops, which can be fatal.
Enteric routes–Hepatitis A is transmitted by enteric; these are digestive or fecal routes. The main accelerants of the fecal-oral course are poor hygiene and sanitary conditions.
Parenteral routes–HBV and HCV virus transmission occur via the respiratory tract, bloodstream, and genital tract, but not the alimentary tract.
The five different hepatitis types that cause liver inflammation have almost the same signs and symptoms, and some of them include: abdominal pain, loss of appetite, fatigue, dark urine, pale stool and jaundice.
How To Prevent Hepatitis
It is clear that all types of hepatitis disorders are severe and can be fatal if not attended to. Therefore, as the saying goes, prevention is better than cure; there are some preventive measures available to help prevent the transmission of hepatitis, such as:
Vaccination
Luckily, hepatitis vaccinations exist. Hepatitis A vaccination consists of a series of two doses, and it's provided for children between the age of 0 to 23 months. Hepatitis B vaccine comes in three doses, and adults can receive it. What's more, the vaccine for hepatitis B can help prevent hepatitis D. Sadly, there are no vaccines for hepatitis C virus.
Screening

As one of the most important measures taken by WHO to eliminate hepatitis, hepatitis screening [2] involves testing your blood sample for antigens and antibodies to determine whether you've been infected by viral hepatitis, before initiating HBV DNA definite diagnosis to confirm the case. Then, antiviral treatment should be performed if, according to the relevant test indicators, treatment conditions are met. During the treatment, regular HBV DNA monitoring should be carried out as well.

HBV DNA diagnostics kits from Sansure are inarguably the best kits for identifying antigens or antibodies related to each type of hepatitis virus. The kit uses advanced magnetic beads technology to extract HBV DNA from collected serum or plasma samples. It also comprises other features to prevent false positive or negative results. That is how HBV DNA test is carried.

Treatment
The ideal treatment methods depend on the type and stage of the infection. Hepatitis A rarely requires treatment since it's a short-term illness. The doctor might recommend antiviral medications for acute and chronic forms of hepatitis B and C. But if the condition accelerates to the liver cirrhosis stage, a patient might require a liver transplant. To avoid such situations, one must undergo early hepatitis screening and diagnosis.
There's a need to create hepatitis public awareness to help save our generation, and that's why Sansure is at the forefront of providing reliable and effective solutions and diagnostic kits to "Eliminate Hepatitis by 2030". We have worked tirelessly to innovate and provide reliable and precise diagnosis solutions for hepatitis to hospitals and clinics, such as the HBV DNA test kits. This is our grateful contribution toward fighting against viral hepatitis.
Conclusion
By 2019, even only in the Western Pacific, 116 million people are estimated to live with hepatitis B and 10 million with hepatitis C and, sadly, most people remain undiagnosed and untreated. Merely 18% of people living with hepatitis B have been diagnosed and 5% treated. To enable more hepatitis patients to receive the health care, those in need must have access to hepatitis services that are accessible, and that are equitable, effective, efficient, timely and of an acceptable quality.
That said, Sansure stays true to its vision to eradicate hepatitis by developing more accurate and reliable hepatitis screening solutions. For the past years, we have applied advanced technologies to make it easier for hospitals and dispensaries to identify and analyze viral hepatitis quickly. It is the world's leading HBV quantitative PCR detection technology provider that uses powerful medical technologies, such as the fully automated unified sample processing technology. Visit the Sansure website today to learn more about hepatitis care, HBV DNA tests, and other reliable medical services.
References:
[1] World Hepatitis Day 2022.
Available at: https://www.who.int/westernpacific/news-room/events/detail/2022/07/28/western-pacific-events/world-hepatitis-day-2022  (Accessed: 25 July, 2022)
[2] Screening for Hepatitis B Virus Infection in Nonpregnant Adolescents and Adults: A Systematic Review for the U.S. Preventive Services Task Force.
Available at: https://www.ncbi.nlm.nih.gov/books/NBK565982/  (Accessed: 25 July, 2022)