Ambassadors of Malawi to China visited Sansure Biotech
---
Sansure Biotech
Jun 28, 2022
Accompanied by the management from Office of Foreign Affairs Commission of CPC Hunan Provincial Committee, H.E. Allan Chintedza, the Ambassador of Malawi to China, and Oliver Kingstone Chimphambano, the Deputy Ambassador of Malawi to China, visited Sansure Biotech on June 23rd. Dr. Lizhong Dai, the Chairman of Sansure Biotech was also along with the visit.
Ambassador Allan Chintedza visited the exhibition hall of Sansure Biotech, learned about the development history of Sansure Biotech, building of international talent team, globalization strategies and scientific and technical innovation, especially focusing on the company's prevention and control strategies against Covid-19, support for developing countries to establish and improve systems for public health and disease prevention and control, and introductions of self-developed and internationally certified products for blood sample screening of hepatitis B, hepatitis C, AIDS, etc.
Clients from Gabon gave highly comments to the technical services from Sansure Biotech.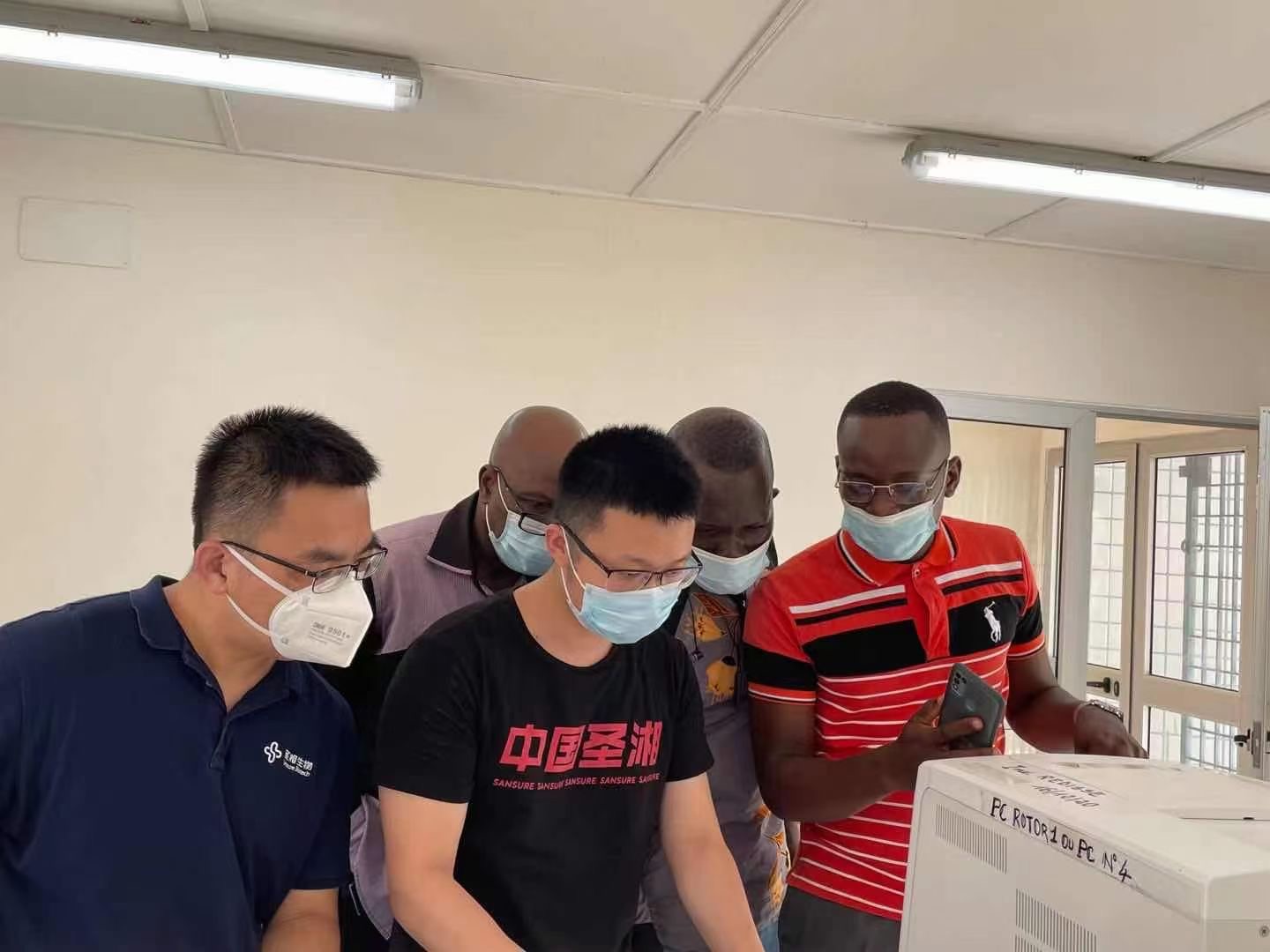 The team of Sansure Biotech has provided tech supports in the Republic of Benin.
Africa is one of the main cooperation regions of Sansure Biotech. Sansure Biotech has commercial intercourse and cooperations in nearly 50 countries and regions, including Ghana, Gabon, Togo, Benin, Ethiopia, etc., covering Chinese national assistance projects in Africa, WHO-related projects, UN-related projects, public welfare training on molecular diagnostics, etc. Since 2020, Sansure Biotech has sent dozens of people to help Africa fight against the epidemic, and has helped to establish and greatly improve the nucleic acid detection capability of hundreds of labs in African countries. Sansure Biotech has also comprehensively served the construction of public health system in African countries. On the China-Africa Health Care Development Forum in 2021, Sansure Biotech signed cooperation agreements with several African countries to help them improve the ability of disease diagnosis, prevention and control.
Ambassador Allan Chintedza highly appreciated the international achievements made by Sansure Biotech and its important contribution to the community of human health. He expressed the wish that Sansure Biotech would introduce more quality products to Africa, provide powerful solutions for prevention and control of infectious diseases in African countries, and make more precise, effective and affordable diagnosis and treatment services available to African people.
Dr. Lizhong Dai said that, infectious diseases, especially hepatitis B, hepatitis C, AIDS, tuberculosis, etc., are the main public health concerns of African people. Corresponding products, programs and services of Sansure Biotech can greatly improve the accessibility of molecular diagnostics, and can provide more help in medical and health services for African people. In the future, Sansure Biotech will continue to support the establishment and development of public health system in Africa, and provide affordable and excellent molecular diagnostic products and services for African people.