Nature Medicine: International AIDS Society Global Scientific Strategy 2021
---
Sansure Biotech
Mar 08, 2022
Antiretroviral therapy (ART) for people living with HIV, despite its success, is not a cure for HIV and patients still need lifelong treatment. HIV integrates into the host genome and persists throughout the life cycle of infected cells. These latently infected cells are not recognized as foreign cells because they are largely transcriptionally silent, but discontinuing ART for viruses that have replication capacity drives the recovery of the infection. Some non-human primate models have been cured under the combined action of immune activators, neutralizing antibodies and therapeutic vaccines, which holds promise for the approaches in ongoing human clinical trial evaluations. The application of gene editing tools for viruses in vivo boosts immunity and protects cells from infection, bringing hope for AIDS treatment in the future. The International AIDS Society Global Scientific Strategy Working Group published an article in Nature Medicine in December 2021 entitled "Research priorities for an HIV cure: International AIDS Society Global Scientific Strategy 2021" to discuss the progress of AIDS treatment made in the past five years, emphasizing the knowledge gap and determining the main research objectives in the next five years.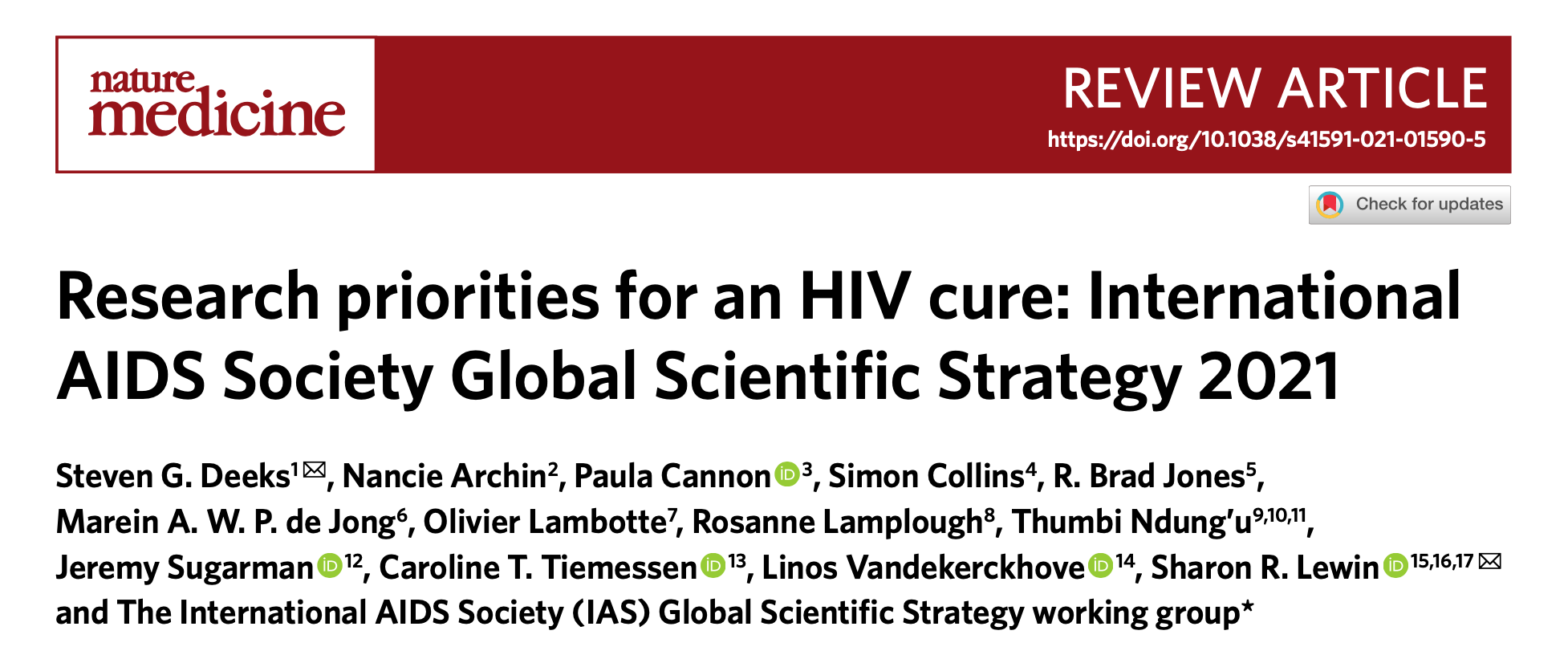 Primary research objectives for the next five years
1. Learn about HIV reservoirs
A common definition of HIV reservoirs is crucial for researchers, clinicians and people living with HIV. We know that HIV exists in a variety of forms in many cells and many parts (Fig. 1). Antiretroviral therapy (ART) can significantly reduce the level of the virus dramatically, but it cannot completely eliminate it, and the HIV latent throughout the body will come back when the treatment is discontinued. How to find the "latent" HIV and discover HIV reservoirs is crucial for the treatment of HIV. Research priorities to know HIV reservoirs are:
To define and describe the source of viruses with the ability to replicate and rebound during antiretroviral therapy;
To define the phenotype of a cell carrying the complete HIV genome;
To define the clinical significance of defective but inducible proviruses;
To clarify the clone proliferation mechanism;
To determine whether infected cells persisting in antiretroviral therapy are resistant to cell death;
To determine the influence of gender and other factors on HIV repository and virus-specific therapy.
2. Quantification of HIV reservoirs
Significant progress in the treatment of HIV depends on sensitive, specific and quantitative measures for persistent viruses, which can be applied to different anatomical sites. However, to achieve this goal is challenging because of the large number of sources and heterogeneous properties of persistent and highly replicable HIV. HIV reservoirs can be quantified by detecting viral nucleic acids (total and intact DNA, intact and defective DNA, or different forms of RNA), viral proteins (p24), or viral inducibility (by measuring HIV RNA or viral replication after in vitro activation). Research priorities in quantification are:
To develop and verify high-throughput analysis to quantify reservoirs with rebound potential;
To develop analytical methods for quantifying integration sites;
To develop analytical methods that can explain the essential differences of virus transcription;
To develop methods to quantify HIV protein expression in cells and tissues;
To develop imaging models to quantify the size, distribution and activity of reservoirs in tissues;
To define the connection between cell host, residual plasma viremia and rebounding viruses;
To develop instant detection methods to eventually enable virus load monitoring at home.
3. HIV control mechanism
Those who naturally control HIV without any treatment and maintain a viral load of less than 50 copies/mL (known as "elite" controllers) have been the focus of research for many years. Research in this area has increasingly focused on controllers who exhibit significantly tighter control ("special" controllers), including some who may be considered to be truly cured, and those who become controllers after ART discontinuation (post-treatment controllers). Research priorities in this part are:
To identify the mechanisms that contribute to the control of HIV/AIDS;
To define the role of HIV-specific antibodies, B cells and innate immune responses in virus elimination or control;
To define virus dynamics and biomarkers related to post-treatment control;
To optimize human organ-like models, as well as mouse and non-human primate models, for therapeutic and palliative-related studies.
4. Targeted provirus
A series of methods specifically targeting latent infection cells have emerged since the discovery that HIV can establish latent infection with minimal HIV transcription (Fig. 2), including pharmacological modulation for epigenetic or signaling pathways involved in HIV transcription to reactivate latent HIV so that cells are targeted and eliminated ("impacted and destructed") or to permanently inhibit HIV transcription ("blocked and locked"). Recent reports show that HIV latency is heterogeneous and that reactivation of latency is stochastic, implying that combinations of drugs targeting various pathways controlling HIV transcription may be required to achieve robust silencing or reversal of latency. Research priorities in this part are:
To develop improved therapeutic options to reverse the onset of latency;
To develop strategies to permanently suppress the provirus;
To identify the impact of antiretroviral therapy on the provirus when it is started;
To define the role of virus subtypes in the intervention against the provirus.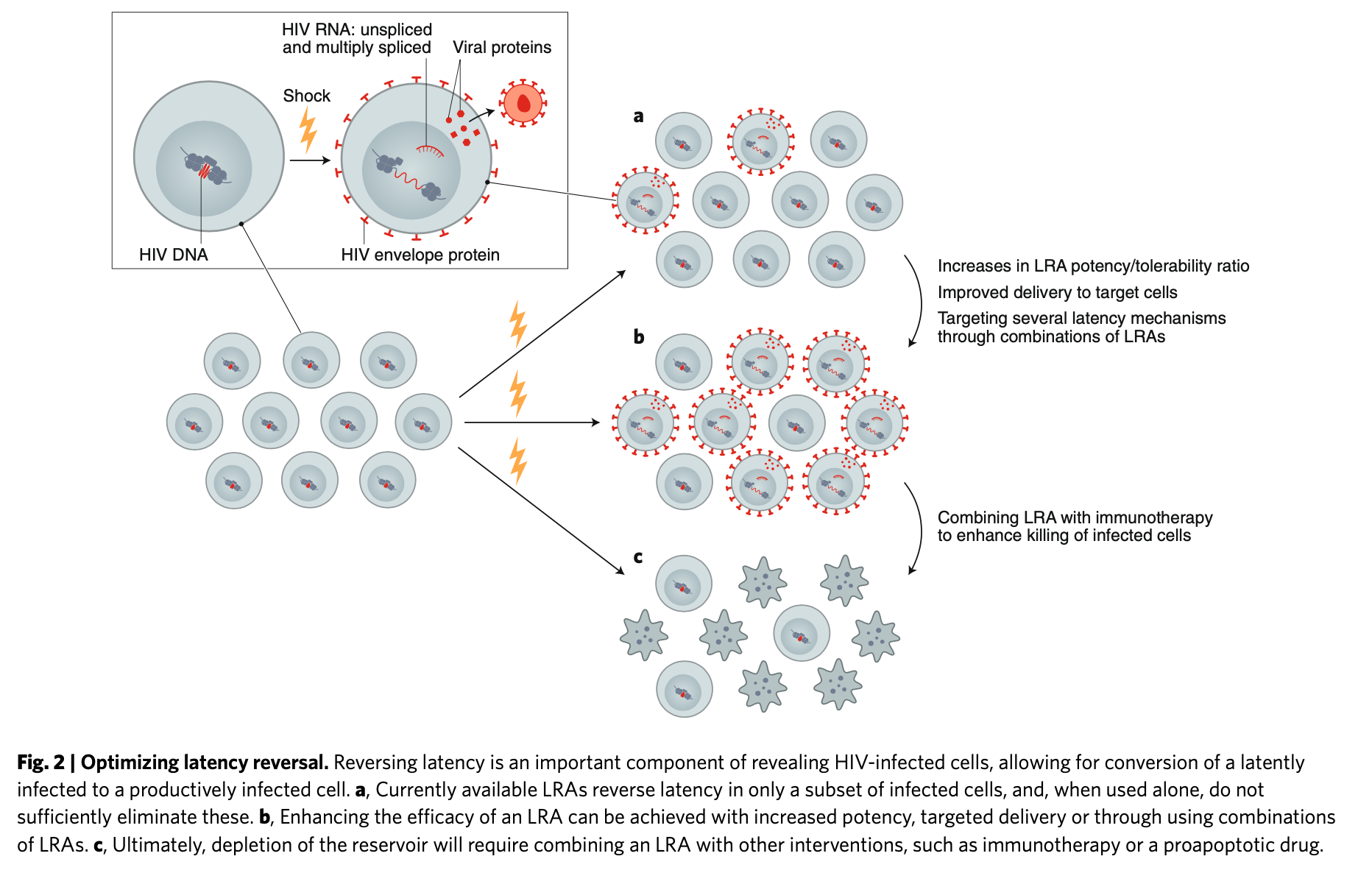 Besides, immunotherapy, cell and gene therapy, retroviral therapy for children and infants, as well as social, behavioral, and ethical issues should be strategically planned to chart the way forward.
In summary, the key topics addressed above are prerequisites for the developing cure strategies and interventions. We expect to see more understanding of HIV reservoirs in the next ten years. HIV testing is essential for learning about HIV reservoirs, AIDS diagnosis and treatment. The discovery of latent infection in different tissue and body fluid samples with very low viral load is the key to cure AIDS, but there are no HIV quantification reagents available at present. According to information, many leading biological enterprises in China have made plans for HIV diagnosis and testing, and we hope they can develop more sensitive and convenient testing reagents and instruments. In addition, the development of high-throughput sequencing technology to detect HIV drug resistance genes and mutations is also a key issue to be considered in the future.
Link to original article: https://www.nature.com/articles/s41591-021-01590-5
Steven G Deeks, Nancie Archin, Paula Cannon, Simon Collins, R Brad Jones, Marein A W P de Jong, Olivier Lambotte, Rosanne Lamplough, Thumbi Ndung'u, Jeremy Sugarman, Caroline T Tiemessen, Linos Vandekerckhove, Sharon R Lewin, International AIDS Society (IAS) Global Scientific Strategy working group; Research priorities for an HIV cure: International AIDS Society Global Scientific Strategy 2021.Nature medicine 2021 Dec 01; doi:10.1038/s41591-021-01590-5
Note: The picture comes from the Internet. If there is any infringement, please contact the author to delete it.
Disclaimer: All the publications on this website, where the source is indicated, are copyrighted by the original source and do not represent the position of this website.