Obtain 3 More CE Certifications! COVID-19 or Influenza? One Kit for 7 Respiratory Pathogens
---
Sansure Biotech
Sep 07,2021
Recently, 3 products of Sansure Biotech SARS-CoV-2 Multiplex Nucleic Acid Diagnostic Kit, Natch24/48/96 Nucleic Acid Extraction System, Nucleic Acid (DNA/RNA) Extraction or Purification Kit (Magnetic beads method) have obtained EU CE Certification. This is Sansure Biotech once again obtained global authority certification this year, after more than  80 products including Novel Coronavirus (SARS-CoV-2) and Influenza A/B Virus Nucleic Acid Diagnostic Kit, ARS-CoV-2 Rapid Antigen Test, Natch CS2 have been certified by international authorities such as EU CE certification and U.S. FDA certification.
Infected by Respiratory Pathogens? COVID-19 or Flu?
Diagnostic Kit for Seven Respiratory Pathogens Brings Accurate and Rapid Identification
The symptoms of Influenza and other respiratory infectious diseases are similar to the early symptoms of the COVID-19, and winter and spring are the seasons for high incidence of respiratory infectious diseases such as influenza.
Recently, Mr. Nanshan Zhong, an academician of the Chinese Academy of Engineering, said: "We have found cases of co-infection with influenza and the COVID-19. In the future, we need rapid testing kit to quickly detect what respiratory pathogens a patient is infected, the COVID-19 or influenza."
Professor Wenhong Zhang, Director of the Department of Infectious Diseases at Huashan Sub-Hospital of Fudan University, also said: "Co-infection is very common in respiratory diseases. Co-infection of influenza and COVID-19 has been detected during the first wave of epidemics."
The National Work Plan for Influenza Prevention and Control (2020 Edition) pointed out that measures such as pre-inspection and triage, multiplex diagnostic of multiple pathogens of respiratory infectious diseases, simultaneous detection of multiple pathogens such as COVID-19 and influenza virus should be taken to do a better job on differential diagnosis. In the Diagnostic and Treated Program on COVID-19 Pneumonia (Trial Seventh Edition), it is also required to distinguish the mild manifestations of the COVID-19 infection from the upper respiratory tract infections caused by other viruses, mainly including influenza virus, adenovirus, respiratory syncytial virus, etc. It is necessary to detect common respiratory pathogens through rapid antigen detection and multiplex PCR nucleic acid detection.
At present, there are only a handful of multi-pathogen combined diagnostic kits in China, including COVID-19, while some foreign combined diagnostic methods are expensive. In view of this, Sansure Biotech has established an overall solution covering "COVID-19 nucleic acid detection + COVID-19 antigen detection + COVID-19 POCT rapid detection + 3 combined detection including COVID-19, Influenza A/B Virus + 7 combined detection including COVID-19, Influenza A/B Virus, etc. + 6 combined detection including of COVID-19 and respiratory, and respiratory tract 7 combined detection", so as to comprehensively assist the prevention and control of the global COVID-19 epidemic and other respiratory diseases such as influenza.
The Sansure Biotech SARS-CoV-2 Multiplex Nucleic Acid Diagnostic Kit has obtained the European Union CE certification, which is suitable for the qualitative detection of seven respiratory pathogens, such as COVID-19, influenza A virus, influenza B virus, respiratory syncytial virus, adenovirus, HRV and mycoplasma Pneumoniae in human nasopharyngeal swab, bronchoalveolar lavage fluid and sputum samples. The detection results can be used for the auxiliary diagnosis of patients with respiratory pathogen infection and suspected COVID-19 pneumonia; and can provide accurate and rapid molecular diagnosis basis for respiratory pathogen infection and COVID-19 infection.
Long time for extraction? Fewer choices for throughput?
No worries with Natch 24/48/96
Natch 24/48/96 is a nucleicacid extraction and purification system for DNA/RNA launched by Sansure Biotech, which is suitable for nucleic acid extraction from multiple samples, such as serum, plasma, throat swabs, anal swabs, feces, genital secretions, shedding cells, and urine. Natch 24/48/96 can achieve large-scale rapid detection of COVID-19 and other respiratory viruses, venereal diseases, HPV, HFMD, etc., and can be used in clinical gene amplification testing laboratories, CDC disease prevention and control centers, research institutes, medical college laboratories, etc.
Natch 24
Natch 48
Natch 96
Working principle
Magnetic bead method, magnetic rod and magnetic sleeve method
Sample throughput
1-24
1-48
1-96
Working volume
100-10000ul
30-2000ul
30-1000ul
Sample volume
≤5000ul
≤1000ul
≤500ul
Use consumables
24 deep well plate
48 deep well plate
96 deep well plate
Number of magnetic rod
24
48
96
Features of Natch 24/48/96
NO.1 Multiple models
Natch24, Natch48 and Natch96 three models to meet the needs of different organizations for throughput and sample processing volume.
NO.2 Rapid
Compatible with the pre-packed Nucleic Acid (DNA/RNA) Extraction or Purification Kit (Magnetic beads method) of Sansure Biotech; the entire plate of nucleicacid extraction can be completed in 10-15 minutes, with high extraction efficiency; greatly saving time and labor costs.
NO.3 Accurate
The height of the magnetic rod can be adjusted automatically; equipped with variable speed oscillation module, so the magnetic beads provide better adsorption.
NO.4 Interchangeability
Internal modules of the instrument support the flux exchange among Natch24/48/96 NucleicAcid Extraction System.
NO.5 Compact
It can be placed in a medium and large biological safety cabinet.
NO.6 Intelligence
Intuitive and friendly HMI, which can be paused in real time.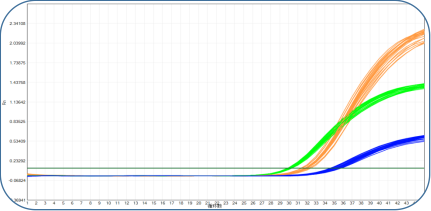 Nowadays, the world faces enormous pressure on the prevention and control of COVID-19 and respiratory diseases. The certified products of Sansure Biotech this time will further supplement the solution of Sansure Biotech, with the purpose of helping more countries and regions to improve nucleic acid detection capabilities, and enhance the prevention and control of epidemics and major diseases.